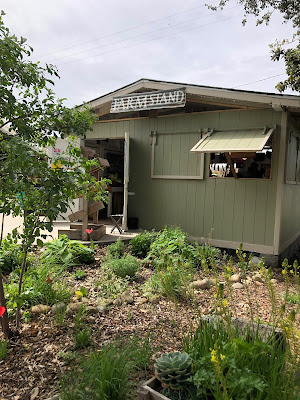 The Farm Stand at Soil Born Farms will be open during
Family Night on the Farm. (Photo: Kathy Morrison)
American River Ranch opens its gates Friday evening
You've spent a day on the farm? Experience something totally different: Family Night on the Farm.
Friday, Aug. 16, Soil Born Farms' American River Ranch is hosting this inaugural event – a summer evening on its expansive acreage next to the American River.
From 6:30 to 9:39 p.m., enjoy a picnic (bring your own or buy dinner from the Pop-up Farmhouse Kitchen and Grill) accompanied by live music.
Tour the farm's gardens and displays. Sample fresh produce and shop the farm stand.
Play old-fashioned favorites such as horseshoes and croquet or bring your own board games to while away the twilight. Children will be able to enjoy some whimsical evening activities at the Enchanted Youth Garden.
When the stars come out, admire the night sky above Sacramento's oldest working farm. It will be a farm experience the whole family will remember.
(The traditional mid-May Family Day on the Farm this year was canceled due to thunderstorms.)
Admission to Family Night on the Farm is $5; children under age 5 admitted free. Pay at the gate.
American River Ranch is located at 2140 Chase Drive, Rancho Cordova.
Details:
www.soilborn.org
.