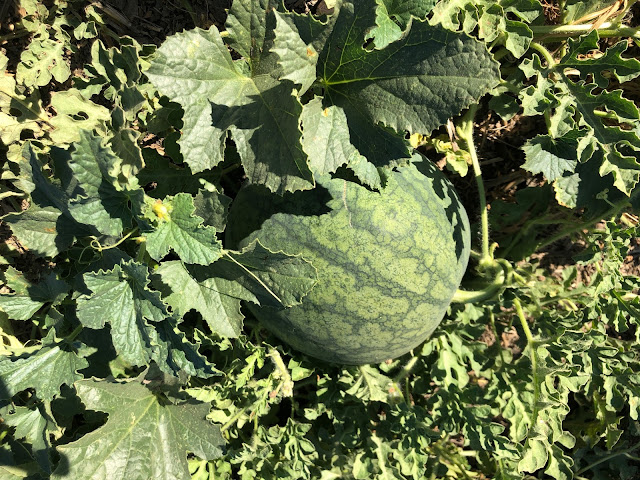 If your melons are close to ripening, be sure not to overwater them. In fact, you can cut back the water a bit.
This prevents mushy flesh and splitting. (Photo: Kathy Morrison)
Following toasty temperatures, show your garden some TLC
After that mid-week spike into triple digits, this weekend's cooldown will feel particularly refreshing, for both people and plants.
Those high temperatures toasted blooms and hastened some annuals to an early demise. Perennials and bulbs died back quickly.
Take advantage of this cooler weather to show your garden some TLC.
Deadhead roses and trim off other spent flowers such as daisies and asters. Cut back daylily stems as well as other lilies as they brown.
Have your bearded irises stopped blooming or had fewer flowers this past spring? It's time to divide and rejuvenate their beds. Irises need dividing every three or four years; August is ideal for this task. Dig in a little compost before replanting the rhizomes.
For irises staying in place, trim back their browned leaves to prepare for new growth.
Also in mid-August:
* Feed citrus trees their last round of fertilizer for the year. This will give a boost to the fruit that's now forming.
* Harvest tomatoes, beans, squash, pepper and eggplant.
* Keep an eye on melons; they can ripen rapidly in this weather. Too much water can cause them to split.
* Fertilize fall-blooming perennials. Chrysanthemums can be fed until the buds start to open.
* Indoors, start seedlings for fall vegetable planting, including bunching onion, cabbage, broccoli, cauliflower, kale, radicchio and lettuce.
* Plant onions, leaf lettuce, peas, radishes, turnips, beets, carrots, bok choy, spinach and potatoes directly into the vegetable beds.
* Transplant cabbage, broccoli, kale, Brussels sprouts and cauliflower as well as lettuce seedlings.
* Remember to water; morning or evening is best. Check the soil before pulling out the hose.