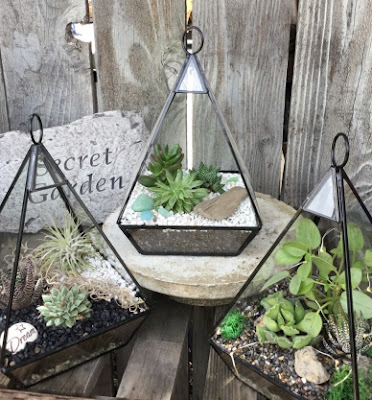 Learn how to create a terrarium with succulents.
(Photo: Courtesy The Secret Garden)
Elk Grove's McConnell Estates hosts workshop with The Secret Garden
Succulents, terrariums, wine; this workshop has them all.
Three popular topics are combined in this Sunday workshop, hosted by The Secret Garden but at a special location: McConnell Estates Winery.
Like the nursery, McConnell Estates is also located in Elk Grove (10686 W. Stockton Blvd.), so it's a natural pairing.
"Build Your Own Terrarium" is a hands-on DIY workshop, set for 11:30 a.m. Sunday, Aug. 25. Registration is $50 and includes the glass terrarium, three succulents, soil and decorative rock. Other decorative items may be purchased on site.
"In this workshop, we will cover the four C's of working with succulents: composition, compatibility, color and care, addressing which succulents will best work in an indoor terrarium," notes the Secret Garden. "Then, we'll set you loose to create your own unique terrarium using an assortment of succulents and supplies."
This popular event sells out quickly; registration is available online or call 916-682-6839.
To sign up or for more details, go to
www.secretgarden-online.com
and click on "events."
- Debbie Arrington