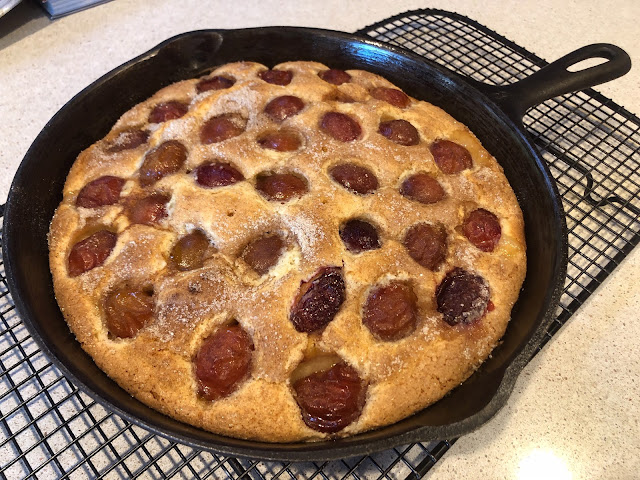 Italian plums, also called prune plums, bring a sweet-tart flavor to this buttery skillet cake. (Photos: Kathy Morrison)
Recipe: Easy dessert is baked in a cast-iron skillet
When a windfall of summer fruit comes my way, I typically freeze it if I can't use it all immediately. The trick is remembering to use the frozen fruit so there will be some room in the freezer for the next windfall.
About a month ago I received a bag of Italian plums from a backyard tree. Smaller and less juicy than typical plums, these oval plums freeze very well. They are freestone, too, and so can be halved and pitted easily. I filled a quart bag with the fruit.
This past week I was paging through my
"Bake from Scratch Vol. 3"
cookbook and found the perfect recipe for those plums: a skillet cake that could be either a dessert or a brunch cake. We had it with coffee in the morning.
This recipe really could be made with any stone fruit. The easier-to-find black plums would be delicious, though I think I'd try to find the firmest (yet still ripe) ones I could for this, just to avoid adding too much juice to the cake.
If making this for brunch again, I think I'd cut back the sugar just a bit and bump up the spices: The cardamom included here is lovely but I wanted a little more. (Use allspice if you don't have cardamom handy.) The amounts printed here are the original measurements.
Another note: Don't try softening the butter in the microwave -- it'll melt, and you won't be able to cream it with the sugar. Just leave it for a bit on the kitchen counter; with our current weather, it'll soften up right away, even indoors.
Plum Skillet Cake
From a recipe by Kelsey Siemens, in "Bake from Scratch: Vol. 3"
Serves 8
Ingredients
:
1/2 cup (1 stick) unsalted butter, room temperature, plus more for buttering pan
1 cup plus 2 tablespoons granulated sugar, divided
2 large eggs
2 teaspoons vanilla extract
1 1/3 cups unbleached all-purpose flour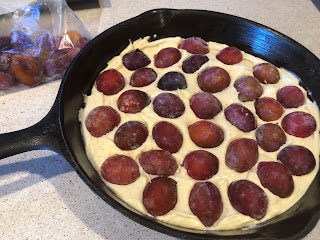 The still-frozen plum halves sit on top of the cake batter. Press
them into the batter just a bit before adding the cinnamon-
1 1/4 teaspoons baking powder
1/2 teaspoon ground cardamom (or allspice)
1/3 teaspoon fine sea salt
1/2 cup low-fat or full-fat sour cream
12 to 16 Italian plums, halved and pitted (if frozen, don't defrost before baking)
1/4 teaspoon ground cinnamon, for topping
Powdered sugar for serving, optional
Instructions:
Preheat oven to 350 degrees. Butter a 9- or 10-inch cast iron skillet.
In a large bowl, beat the butter and 1 cup sugar until fluffy, a couple of minutes. Add 1 egg at a time, beating after each addition. Stir in the vanilla extract.
In a separate bowl, combine the flour, baking powder, cardamom or allspice, and salt. Stir about half of this mixture into the butter mixture until thoroughly combined. Beat in the sour cream, then gradually add the rest of the flour mixture until thoroughly incorporated.
Spread batter in the prepared skillet. Arrange the plum halves over the batter, cut side down. You may need more or less, depending on the size of your pan and your plums. (I used 32 halves in a 10-inch pan.)
Combine the remaining 2 tablespoons sugar with the cinnamon. Sprinkle over the top of the cake. Bake for 50 minutes to 1 hour, until the top is golden brown and a toothpick inserted in the cake comes out clean.
Sprinkle the cooling cake with powdered sugar, if desired. Serve warm or at room temperature.