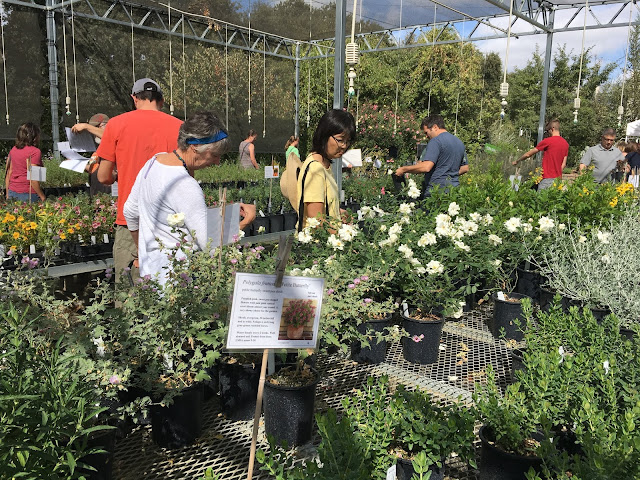 Members get first pick of the plants during the Sept. 28 plant sale at the UC Davis Arboretum Nursery. (Photo: Kathy Morrison)
Calendar fills up as temperatures inch down
It's going to cool down, really it is. And that means good planting weather will return, not long after  turning the page to September in the 2019 Gardening Guide and Calendar.
(That calendar, by the way, is a product of the UCCE Master Gardeners of Sacramento County, and their 2020 version is already on sale
here
. Placer County will have one, too, available
here
on Sept. 3.)
Along with better planting conditions will come a host of fall gardening events. So flip to September now and write down a few of the big ones so you won't forget. We'll have more information on these and other events on the blog and over at our own
calendar
listings in the days ahead.
-- The American Begonia Show & Sale, 10 a.m. to 4 p.m., Saturday, Sept. 7, kicks off the fall plant  show season at the Shepard Garden and Art Center in Sacramento's McKinley Park. The Delta Gesneriad & African Violet Society will follow that up with its show and sale Sept. 14.
http://www.sgaac.org/calendar.php
-- The National Heirloom Expo returns Tuesday-Thursday, Sept. 10-12, highlighting heritage fruits and vegetables. The Santa Rosa event is packed with speakers, vendors and displays -- plus the nation's largest seed swap. Details at
theheirloomexpo.com
-- Open Garden at the Fair Oaks Horticulture Center, 9 a.m. to noon, Saturday, Sept. 14. If you missed Harvest Day or have new questions for the master gardeners, you'll want to check out this more informal event at the Fair Oaks site. A midweek Open Garden will held in October: Wednesday, Oct. 9
http://sacmg.ucanr.edu/
-- First Fall Sale at the UC Davis Arboretum Nursery, 9 a.m. to 1 p.m., Saturday, Sept. 28. The first sale of the season typically starts with two hours of members-only plant shopping. It's worth joining, for this perk as well as for the 10 percent discount on the many climate-perfect plants on sale. (The other sales this fall will be Oct. 12 and Nov. 2.)
https://arboretum.ucdavis.edu/plant-sales
-- Kathy Morrison