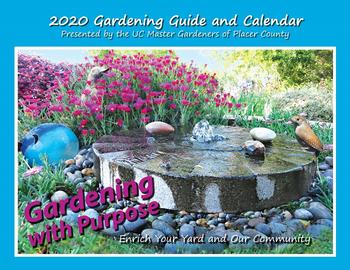 "Gardening With Purpose" is the theme of the Placer County master
gardeners' 2020 calendar.
Placer County master gardeners release popular information-packed calendar
It may be only September, but it's time to get a jump on 2020.
Do that with the help of the Placer County master gardeners, whose popular 13-month calendar and gardening guide goes on sale today, Sept. 3.
The 2020 theme: "Gardening with Purpose: Enrich your yard and your community." Each month features a different way to help the community where you live as well as how your garden grows.
"We garden for a variety of reasons," wrote the calendar's editors. "We garden to grow vegetables, flowers, fruit, or to enhance our yards. Whatever our goals, our gardens impact the environment around us."
Also find seasonal tips on how to care for your garden sustainably, as well as timely planting suggestions. In addition to planting and harvest guides, there's a farmers market shopping list to keep you in tune to the seasons.
The Placer County calendar and guide is written expressly for the foothills' slightly cooler climate, but also works for flatlanders throughout the Central Valley. It makes a thoughtful gift, too.
Priced at $10, the calendar is available at several special events featuring the master gardeners such as the upcoming Auburn Home Show (Sept, 27-29) and the Mountain Mandarin Festival (Nov. 22-24) as well as weekly farmers markets where the Placer County master gardeners staff information tables.
Or gets yours now online via the master gardeners' website at:
http://pcmg.ucanr.org/2020_Calendar/