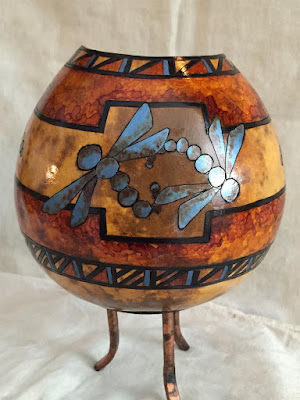 "Designing Dragonflies," a class to make this vase,
will be taught 9 a.m. to 1 p.m. Friday by Brenda
Blackwelder
during the Gourd and Fine Art Festival.
(Photo
courtesy amadorgourdartists.com)
Foothills locations offer gourd festival, fair, garden tour
Made plans yet for the weekend? (Beyond tending your garden, of course.) You could head for the hills: Several sites in the foothills hold events with interest for gardeners:
-- The 2019 Gourd and Fine Art Festival will be held at the Amador Flower Farm & Nursery. The event features classes, vendors, demonstrations, food trucks and the California Gourd Society competition.  The classes are on Friday, Saturday or Sunday, and as of this morning four of the six still had seats left; go to
www.amadorgourdartists.com
to check on availability. The Saturday and Sunday events run from 9 a.m. to 4 p.m. Admission is free. The Amador Flower Farm & Nursery is at 22001 Shenandoah School Road in Plymouth.
www.amadorflowerfarm.com
-- The Sherwood Demonstration Garden, an amazing site tended by the UCCE El Dorado County master gardeners, offers its free monthly tour Saturday at 9 a.m. sharp. The garden has 16 different areas, from rose garden to rock garden, with flowers, shrubs and trees that do well in the Placerville-area climate. Stick around after the tour and visit the Community Observatory next to the garden. From 10 a.m. to noon, the Hydrogen-Alpha telescopes will be set up to allow visitors to safely view sunspots, solar flares, filaments, and solar prominences. $2 parking (exact change required) seven days a week. Folsom Lake College El Dorado Center, 6699 Campus Drive, Placerville.
mgeldorado.ucanr.edu
-- For a traditional agriculture experience, visit the Gold Country Fair, starting today at the fairgrounds in Auburn and running through Sunday. Lovers of hot peppers may want to note the Pepper Eating Contest at noon Saturday. The fairgrounds are at 1273 High St., Auburn. Parking is $6. For more fair info and tickets, go to
http://www.goldcountryfair.com/fair/
There are other weekend activities we've posted about earlier, but here are reminders. (Click on the link to read the post):
-- The
Rose Propagation Workshop
is 9:30 a.m. Saturday at the Historic City Cemetery, Sacramento.
-- Rebecca Plumb talks
houseplants and design
at Green Acres in Rocklin at 10 a.m. Saturday.
-- The
American Begonia Society Convention
will be in full swing from 10 a.m. to 4 p.m. Saturday at the Crowne Plaza Hotel Sacramento Northeast.
-- Kathy Morrison