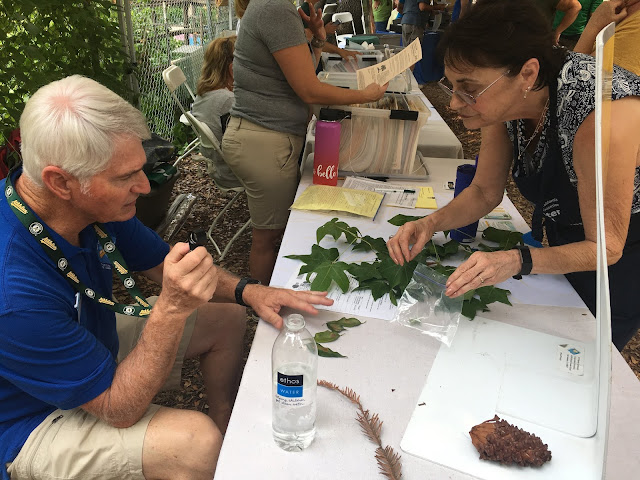 UCCE master gardeners answer gardening questions at many events through the year, including Harvest Day, above.
Apply now through Oct. 18 for Sacramento County's next class
If you have ever wanted to join the ranks of the UCCE master gardeners, now's your chance. Applications are being accepted starting today for the Sacramento County master gardeners class of 2020. The deadline for applying is Oct. 18.
According to the UCCE press release announcing the new year of classes, master gardener trainees
study a wide range of home horticulture topics, with online and in-class coursework and training on how to properly research and respond to questions from the public.
"
The mission of master gardeners is to share research-based knowledge and information on home horticulture, pest management and sustainable landscaping practices with the Sacramento community."
Applicants for this class must be residents of Sacramento County. Placer, El Dorado, Yolo, El Dorado, Amador and other counties conduct their own training, and residents of those counties should contact their local groups for information.
The Sacramento training classes will be held
each Wednesday from Jan. 15 through May 13, 2020. New master gardeners also must complete 50 hours of volunteer work during their first 12 months. Twenty-five hours a year are required after that.
All classes are taught by UC specialists, horticulture advisers and community experts. Topics include:
basics of soil, irrigation and fertilization; water conservation; identification and control methods for insects, diseases and weeds; proper care of vegetables, fruit and landscape trees; and turfgrass.
Volunteering can take many forms, from conducting workshops, to answering the public's questions on the phone or at the State Fair, to making community presentations. The Sacramento master gardeners also plan, garden and conduct growing experiments at the Fair Oaks Horticulture Center in Fair Oaks.