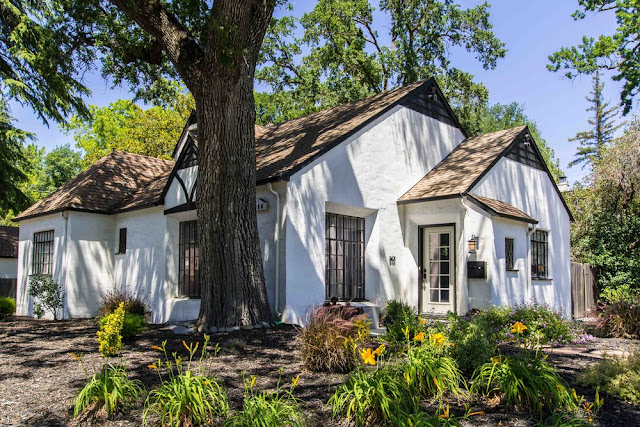 Tudor-inspired homes like this one are typical of the Woodlake neighborhood, focus of Preservation Sacramento's Historic Home Tour on Sunday. (Photo courtesy Preservation Sacramento)

Preservation Sacramento spotlights picturesque neighborhood
It's one of Sacramento's most picturesque neighborhoods, yet many locals have never seen it – or know where it is.
Sunday, discover Woodlake during Preservation Sacramento's 44th annual Historic Home Tour.
This is only the second time the event – Sacramento's longest-running home tour – has ventured outside the Grid into an outlying neighborhood. (The other was Elmhurst.)
"It's a treat to walk through this neighborhood," Luis Sumpter said. "It's incredibly charming. It's a
1920s piece of Americana."
With its first custom homes built in 1922, Woodlake is part of what was originally North Sacramento. It's bordered by Del Paso Boulevard, Arden Way and Highway 160.
Its winding streets deliberately contrasted with Sacramento's logical straight-line grid. Those country-style lanes have names that echo Olde England – Oxford, Canterbury, Lochbrae – with Tudor-style homes to match.
Developers dubbed it "Sacramento's Pasadena" and compared the tract to other tree-studded neighborhoods such as Chicago's Lake Forest and San Francisco's Saint Francis Wood. With a man-made lake and centuries-old oaks, Woodlake evoked that same country estate feel – only five minutes from the Capitol.
Massive oaks still dot the neighborhood, shading grand homes and quaint cottages. Five examples of Woodlake's classic styles plus one historic office building will be featured during this popular event.
The tour is set for 10 a.m. to 4 p.m. Sunday, Sept. 15. Advance tickets are $30 and available online. On tour day, tickets are $35 and available at the ticket booth in Woodlake Park, 500 Arden Way, Sacramento.
Details:
www.preservationsacramento.org