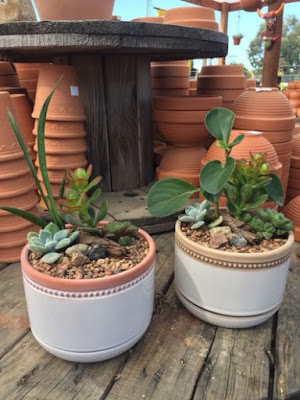 These miniature succulent gardens are also essential oil
diffusers. You can make one Sept. 25 at The
Secret Garden. (Photo courtesy The Secret Garden)
Succulent planter doubles as diffuser; learn how to make it at workshop
Is that pumpkin spice in the air?
Get in the mood for fall with a totally different gardening workshop: Create a miniature succulent garden that doubles as an essential oil diffuser.
Wednesday evening, Sept. 25, The Secret Garden of Elk Grove is hosting this unique workshop at a special venue, Scotto's Wine and Cider tasting room in Lodi.
Course fee ($50) includes materials, diffuser-planter, plants, potting soil and instructions, plus your first glass of wine or cider.
"We'll also cover everything you need to know regarding composition, compatibility of succulents and houseplants, and care of your new arrangement," say the workshop organizers. "Then we'll show you where to add your favorite essential oil so it not only looks great, it makes your room smell great, too!"
Space for this 6 p.m. course is limited; sign up early.
Scotto's Wine and Cider is located at 14 S.School St., Lodi. Directions:
www.scottoswineandcider.com
.
Registration: Call
916-682-6839
or online at
https://squareup.com/store/the-secret-garden-2/item/succulent-essential-oil-diffuser
Details:
www.secretgarden-online.com
.