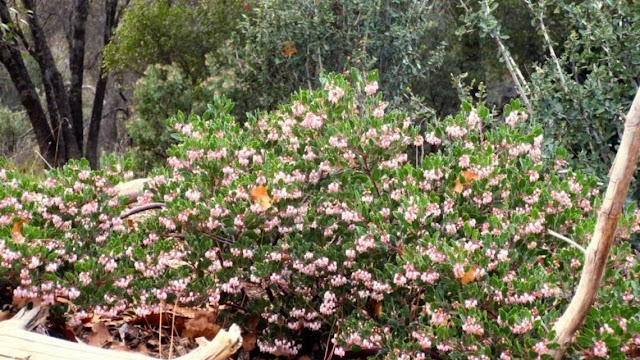 'Howard McMinn' manzanita is an adaptable native shrub that tolerates clay soil. It will be among the plants for sale Sunday. (Photo courtesy
Sac Valley Chapter, CNPS)
Sac Valley CNPS hosts annual fall sale and art market
It's time to go native! Find a huge selection of tough and beautiful California native plants at Saturday's annual Fall Native Plant Sale and Art Market at Shepard Garden and Arts Center in McKinley Park.
For one day only, the Sacramento Valley Chapter of the California Native Plant Society will host this event, set for 10 a.m. to 4 p.m. Saturday, Sept. 21.
The nursery stock offered for sale was grown locally by Cornflower Farms in Elk Grove, Elderberry Farms in Rancho Cordova and Hedgerow Farms in Winters.
Expect to find a lot of unusual varieties, ready to plant now. Elderberry Farms, which is run entirely by CNPS volunteers, plans to bring more than 110 native plant varieties including 10 different bulb species. Both showy and narrowleaf milkweed, a favorite of monarch butterflies, will be offered.
Elderberry Farms nursery director Chris Lewis, who also is coordinating the sale, listed a few of the varieties that will be available:
Manzanita: Whiteleaf, Dr. Hurd, John Dourley, Pacific Mist, Emerald Carpet, Howard McMinn and Carmel Sur.
California lilac (Ceanothus): Anchor Bay, Owlswood Blue, Yankee Point, Valley Violet, Skylark and Ceanothus cuneatus (buckbrush)
Buckwheat: Red, California and St. Catherine's Lace.
September and October offer ideal planting weather for these California natives. Mild autumn weather gives them a chance to put down strong roots and get a head start on becoming "established," a key factor in surviving future droughts.
A lot more than plants will be available at this event. Among the other featured vendors will be Wild Jules seed balls, ceramic artist Julie Clements of Clay Pigeon Ceramics and the artists of Coyote Brush Studios.
Admission and parking are free. Shepard Center is located at 3330 McKinley Blvd., Sacramento.
Details:
www.SacValleyCNPS.org/ps
.