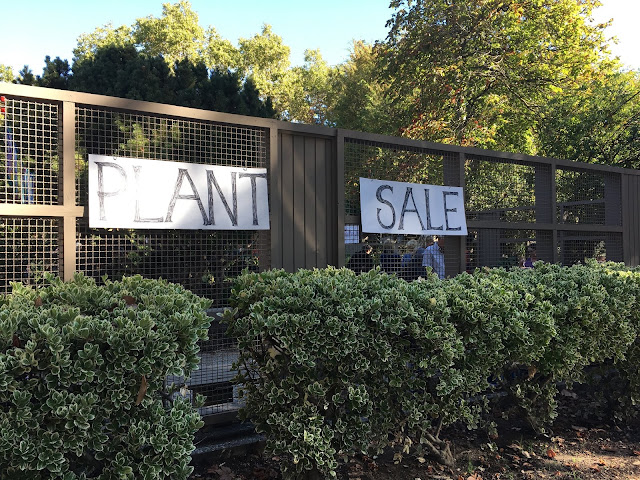 California native plants will be for sale Saturday at the Shepard Garden and Arts Center in Sacramento's McKinley Park. (Photo:
Kathy Morrison)
Native plants, pruning, irrigation in the spotlight
September is one of the busiest gardening months in the Sacramento area. So, it's no surprise a lot of gardening events are going on this Saturday, Sept. 21.
* The largest is the Fall Native Plant Sale and Art Market at Shepard Garden and Arts Center. Hosted by the Sacramento Valley Chapter of the California Native Plant Society, this sale features thousands of plants grown by local specialty nurseries as well as a wide selection of garden-inspired arts and crafts. Hours: 10 a.m.-4 p.m. Saturday. Admission: Free. Shepard Garden & Arts Center, 3330 McKinley Blvd., Sacramento.
www.sacvalleycnps.org/ps
* Want to know more about California natives? "Gardening With Our Beautiful Native Plants" is an introduction, taught by master gardener Alice Cantelow at the El Dorado Hills Library. This 9 a.m. Saturday presentation will cover how to choose and add colorful, easy-care native plants to your garden. Admission: Free, no registration required. El Dorado Hills Library, 7455 Silva Valley Parkway, El Dorado Hills.
mgeldorado.ucanr.edu
* Fall is a great time to start pruning. Learn how to make the most of every cut at "Pruning With Purpose," a workshop offered by the Roseville Utility Exploration Center at 10 a.m. Saturday. Local arborists will share their expertise on the purpose and proper techniques of pruning. Learn about cutting tools, and identify where and how to make pruning cuts in this hands-on workshop. Open to ages 14 and up. Fee: $6 Roseville residents, $8 non-residents. Call 916-746-1550 to register in advance. Taught at the Utility Exploration Center, 1501 Pleasant Grove Blvd.
* In our area, we can garden year round. So, "Why Not Plant a Winter Garden"? That's the theme of a free workshop in Davis at 9:30 a.m. Saturday, taught by the Yolo County master gardeners. Davis Central Park Gardens, B Street between Third and Fourth streets, Davis.
yolomg.ucanr.edu
* Learn the basics of irrigation at "Watering 101," a free workshop offered by Big Oak Nursery in Elk Grove. Starting at 10 a.m. Saturday, landscape designer Roxanne Evans will share the best practices for watering in our Mediterranean climate. Big Oak Nursery, 10071 Grant Line Road, Elk Grove. 916-686-1180.
www.bigoaknursery.com
.
Find more September and October gardening activities at the Sac Digs Gardening calendar
here
.