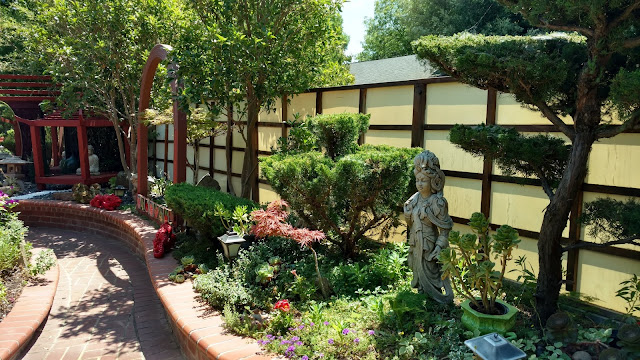 Huei Young will open her Davis garden for a special tour on Oct, 19, her birthday. (Photo: Debbie Arrington)
Make reservations now for event at Davis landmark
See a landmark garden – and help launch a fund to support its future.
Huei Young is inviting the public to a special tour of her Asian-inspired garden in Davis at 10 a.m. Oct. 19 – her birthday. The two-hour tour ($25) includes light refreshments as well as her enthusiastic advice.
Funds from this tour will go towards a new fund set up by the City of Davis to support Young's city garden, a public strip along the city bike path adjacent to her home.
"The city of Davis realizes how pretty the garden is and they want to keep it that way, so they made a special fund to maintain this garden," Young explained. "It has been hard work for almost 40 years. My wish has come true."
A longtime Davis resident, Young planted and cared for the strip garden by herself in addition to her own property.
"The city garden is maintained well, but it is more than I can do myself," she said.
In addition, donations are now being accepted for the upkeep of "Huei's City Garden" via the City of Davis webpage (find it at
CityofDavis.org
) and the Sacramento Region Community Foundation (
https://ssl.charityweb.net/sacregcf/
).
On the foundation page, contributors should look for the link for donations to "YCF Davis Recreation & Community Services (RCS) Program Fund," then make a notation that the gift is for "Huei's City Garden." Checks also are accepted.
The extra funding will help keep the many flowering shrubs and perennials under the massive redwoods mulched, pruned and fertilized.
An expert in feng shui, Young has earned an international reputation while raising funds for several local charities. Her zen-inspired garden features waterfalls, fountains and pools as well as timeless beauty.
To reserve a spot on her Oct 19 morning tour, email her at
hueis.garden@yahoo.com
.