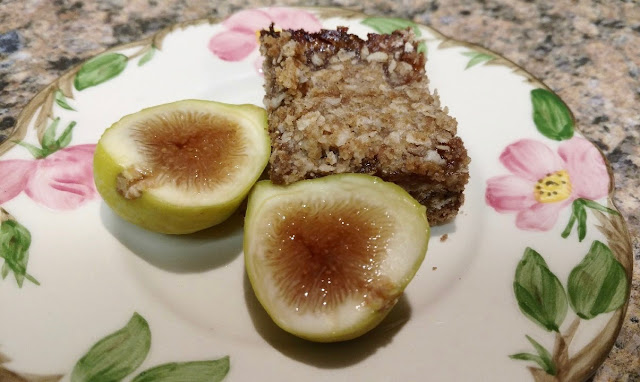 Fresh figs bring a delicious sweetness to easy bar cookies. (Photos: Debbie Arrington)
Most traditional fig cookies use dried figs for the filling. This bar cookie makes the most of fresh figs, which are still in abundance.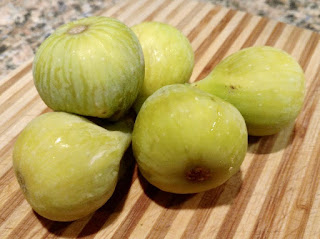 These are Sierra figs, which don't require peeling.

As an added bonus, this fig filling can be used in other recipes (inside coffee cake or pastries, for example) or as a low-sugar fruit spread. It will keep in the refrigerator for at least a week.
For this recipe, I used green-skinned Sierra figs, which have light pink flesh. The skins were so thin, I didn't bother peeling. Dark-skinned figs may be used, too.


Fresh fig oatmeal bar cookies
Makes 16 bar cookies
Ingredients:
For fig filling:
1-1/3 cups chopped fresh figs, stems removed (peeling optional)
1/3 cup water
1/2 cup sugar
1 tablespoon fresh lemon juice
1 teaspoon lemon zest
1 tablespoon butter
For crust:
1 cup all-purpose flour
1/2 teaspoon baking soda
1 cup quick-cooking rolled oats
2/3 cup brown sugar, packed
1/2 cup (1 stick) butter or margarine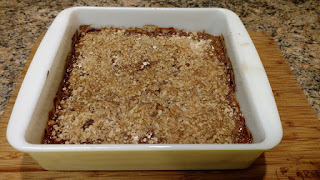 Just out of the oven. The cookies can be cut while they're
Instructions:
Preheat oven to 350 degrees F.


Make filling. In a medium saucepan, combine figs, water, sugar, lemon juice and zest. Bring to a boil, then reduce heat to simmer. Add butter. Cover. Over low heat, let figs simmer until tender, stirring occasionally, about 5 minutes.
After figs are soft, remove pan from heat and let cool for a few minutes. Transfer fig filling to food processor or blender. Pulse a few times until filling is smooth. Set aside.
In a mixing bowl, sift together flour and baking soda. Stir in oatmeal and brown sugar. With a pastry blender or two knives, cut in butter until mixture looks like crumbs.
Save out 3/4 cup of crumb mixture for topping.
In an ungreased 8-inch square baking dish, gently press remaining crumb mixture to form an even bottom crust. Spread fig filling over crust. Sprinkle remaining crumbs over top.
Bake at 350 degrees for 30 minutes or until golden on top.
Let cool. While cooling, cut into 2-inch squares.
Want to quickly see a list of all our Sunday recipes? Go to our
recipe index page here
.