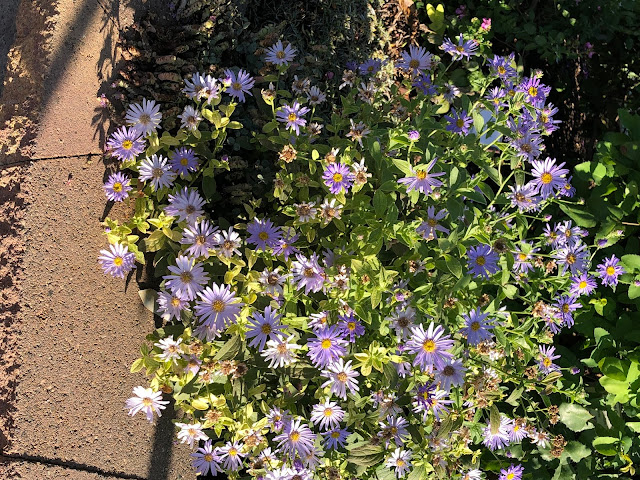 Monch asters bloom in fall and are popular with bees. The UC Davis Arboretum plant sale will include some of these plants. (Photo
courtesy UC Davis Arboretum)
Stock replenished after nursery attracted huge crowd for first fall event
Plenty of great water-wise plants are still available at the UC Davis Arboretum's fall sale, set for 9 a.m. to 1 p.m. Saturday, Oct. 12. This sale is open to the public for the entire event; admission is free.
After being mobbed during the first sale Sept. 28, the nursery's tables are full again. For its three fall sales, the arboretum grew more than 25,000 plants in about 700 varieties.
Arboretum nursery manager Taylor Lewis is never sure what's going to be a hit.
"Deerweed; it flew out the door!" Lewis said of a best-seller at the arboretum's fall opener. "If I had known, I would have grown more. Cascade Creek (goldenrod); I had 75 one-gallon (plants). Next thing I knew, they were gone."
The turnout for the sale exemplified the popularity of the arboretum's plants, many of them unavailable anywhere else. The arboretum nursery specializes in drought-tolerant flowering shrubs, perennials, bulbs and trees, including many California natives.
"People started lining up at 8 a.m.," Lewis said. "By 9 a.m., we had 300 people waiting to come in. We had more than 1,500 people come through the door. It was one of the biggest events we've ever had."
Lewis and his staff have been growing plants for this sale for months, if not years. For Saturday's sale, he has another amazing assortment including California fuchsia, penstemons and coffeeberry.
"I'm really loving the Monch aster," Lewis said. "It looks beautiful this time of year. I see so many bees on those flowers! It's a great choice for pollinators."
Friends of the Arboretum receive a discount. New members can join at the door.
After Saturday's event, the arboretum nursery will host its clearance sale Nov. 2. The nursery is located on Garrod Drive near the small-animal veterinary hospital.
Find a plant inventory list online along with more details and directions:
https://arboretum.ucdavis.edu
.