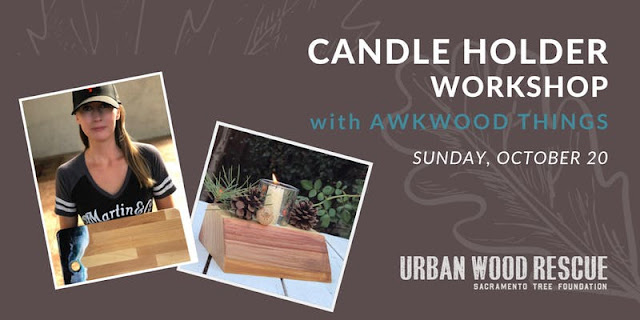 DIY candle-holder workshop fun for the whole family
Get crafty with your kids while recycling urban wood.
Hosted by the Sacramento Tree Foundation, a DIY candle-holder workshop will let participants make an autumn or holiday centerpiece, complete with a handmade beeswax candle. The workshop is part of Urban Wood Rescue, a new SacTree program that aims to keep trees out of landfill while supporting a sustainable urban lumber industry.
Set for noon Sunday, Oct. 20, the family-friendly workshop is open to adults and kids. Led by an expert from Awkwood Things, participants will sand and finish redwood blocks, then decorate them with acorns and other natural accents. They'll then learn how to make candles, giving the new candle-holders something to hold.
Course fee is $32, which covers all materials and instruction. The workshop will be help at SacTree's Urban Wood Rescue lumberyard, 6045 Midway St., Sacramento.
Proceeds from the Urban Wood Rescue program benefit SacTree's tree planting and education efforts. Upcoming workshops include table making from from rescued wood and how to flatten a slab.
To sign up for the class or more information:
www.sactree.com
or
https://bit.ly/2MJoYSF
.