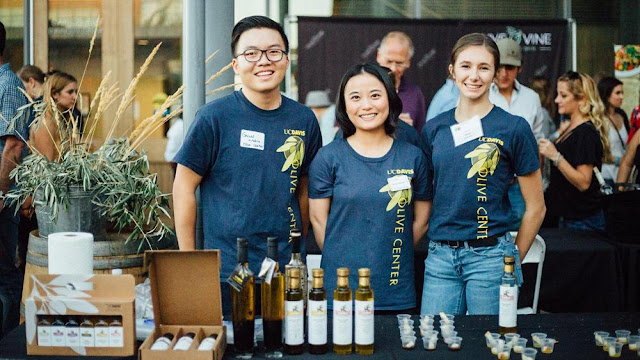 TASTE 2019 will include olive oil tasting with olive oil made from
campus-grown olives. (
Photo courtesy Robert Mondavi Institute)
UC Davis event raises funds for new area in Good Life Garden
Spending time outdoors is good for your health. This UC Davis fundraiser gets people outdoors while supporting a healthier campus.
TASTE 2019 celebrates local wine, beer and food in a garden setting: The Good Life Garden at the Robert Mondavi Institute. From 5 to 7 p.m. Saturday, Oct. 19, enjoy sips, bites and tastings provided by dozens of local food and beverage makers. The event also offers the opportunity to learn about the science and research that makes those wonderful things possible. Live music adds to the festivities.
Attendees will be able to taste olive oil produced from fruit grown on campus. They also will get to see how the UC Davis Arboretum and Public Gardens, along with the university's Department of Viticulture and Enology and the Department of Food Science and Technology, are helping make the campus "the healthiest community in the nation."
Proceeds will go toward creating a new outdoor community area in the Good Life Garden, "a space dedicated to the connection between good food and good health," according to event organizers.
Tickets are $40 and available online. Parking is free.
Details:
arboretum.ucdavis.edu
.