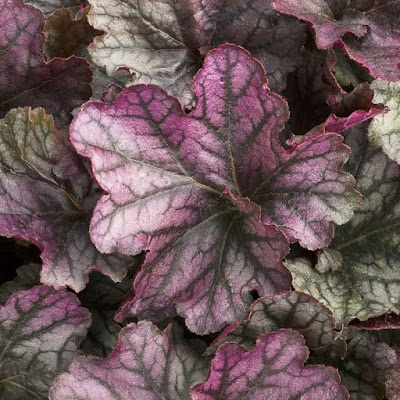 Heuchera "Dolce Blackberry Ice," above, one of many varieties of
a perennial
also known as coral bells, is an excellent fall
and winter
container plant. (Photo courtesy Green Acres)
Green Acres offers free workshop at all locations
It may feel like summer, but fall is a great time to plant flowers and bulbs for winter and spring – providing bursts of blooms in months ahead.
Learn how to create portable and colorful container gardens during free workshops this Saturday at Green Acres Nursery & Supply.
All five locations will offer this popular workshop, set for 10 a.m. Saturday, Oct. 26. See how to combine bulbs and cool-season annuals in one container to make an ever-changing bouquet in a pot. See examples as experts offer their tips for success. Then, get inspired to combine your own favorites.
Green Acres nurseries are located in Sacramento (8501 Jackson Road), Elk Grove (9220 E. Stockton Blvd.), Folsom (205 Serpa Way), Rocklin (5436 Crossings Drive) and Roseville (901 Galleria Blvd.).
Details and directions:
www.idiggreenacres.com
.