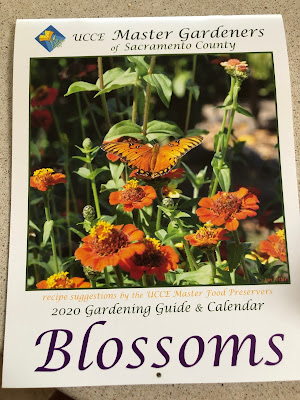 An invaluable calendar, and a bargain, to boot. (Photo:
Master gardener calendars are filled with expert advice
Next year is a leap year, so we get an extra day of gardening. But it's in February, so maybe it'll be an extra day of watching the rain and making gardening plans. (Why isn't Leap Day in April? or June?)
In any case, there are two great 2020 calendars available right now that are stuffed full of advice  from gardeners who know our climate and growing conditions. The calendars have been available for a few months, but this time of year is when folks really focus on the coming year. (And if you have your calendar already, they do make great gifts.)
The Sacramento County master gardeners' new Gardening Guide and Calendar has a theme of "Blossoms," with great photos of all kinds of blooming plants. It's sold for the bargain price of $10 (including tax),  with proceeds supporting the UCCE master gardener events such as Harvest Day.
The calendar is like having your own master gardener right at your desk. It includes monthly gardening tasks, planting tips, advice for cutting flowers and even (from the UCCE master food preservers) recipes that include flowers. The bulb planting guide alone is worth the money: advice to chill or not, what depth to plant and when, etc. The Gardening Guide and Calendar can be ordered online
here
or purchased at several of the Sacramento-area nurseries; see the list on the website.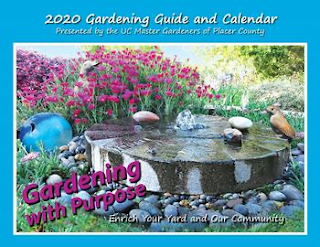 The Placer County calendar is appropriate for Valley and
foothill
gardeners. (Photo courtesy pcmg.ucanr.org)
"Gardening With a Purpose: Enrich Your Yard and Our Community" is the focus of the Placer County master gardeners calendar. Each month includes suggestions of what to plant, what's in season, timely reminders and irrigation tips, plus gorgeous photos and QR codes for additional information. It's also just $10.
Both master gardener groups also sell their calendars at their staffed events, including farmers markets and festivals.

-- Kathy Morrison

The website address for the Placer master gardeners is now correct. Apologies for the earlier error!