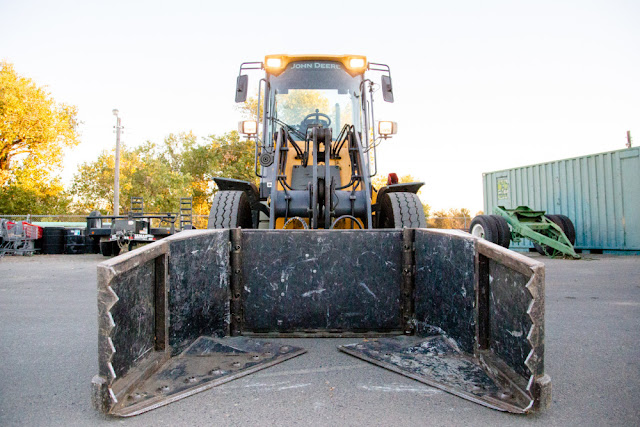 The Claw is making its rounds on the streets of Sacramento, picking up piles of leaves, through Jan. 26. (Photo courtesy
Leaf season in Sacramento brings return of street pick-up
Although fall foliage seems to be clinging to the trees, leaf season has returned to Sacramento. That means the familiar Claw is back in action.
Now through Jan. 26, Claw crews will work the streets of Sacramento, methodically scooping up the City of Trees' abundant accumulation of leaves and other green waste.
November and December produce the majority of leaves: 23,000 tons were picked up by Claw crews during those two months last year. That was a wet winter; rain weighed down the foliage like soaked towels. In 2017, those same two months totaled about 18,000 tons.
Most Sacramento residents should expect seven sweeps down their street by The Claw between Nov. 1 and Jan. 26, according to Erin Treadwell, spokesperson for Sacramento's Department of Recycling and Solid Waste.
Residents can get a pick-up estimate via the city's Leaf Season webpage at:
http://www.cityofsacramento.org/Public-Works/RSW/Collection-Services/Yard-Waste/Leaf-Season
. On the SacRecycle collection calendar link, insert your address and get a target date for your street, within three days. The Claw schedule is updated twice daily with crews out Monday through Saturday.
During light leaf weeks, The Claw crews can complete their citywide schedule in 10 to 12 days. Wet and windy weather can bring down masses of leaves, especially early in November if there hasn't been a major leaf drop. That almost doubles the time estimate for completing a city sweep.
Meanwhile, the city continues to pick up residential green waste containers on a weekly basis. Fill those 96-gallon bins before piling leaves in the street; that helps keep curb space open for parking.
If a heavy rain is expected, move leaf piles out of the street and up onto lawn, Treadwell suggested. That keeps leaves from clogging storm drains. Keep piles out of gutters and bike lanes.
"It only takes five well-placed big leaves to clog a drain," she said.
The biggest contaminant of leaf piles? Poop bags. Please put dog waste in the regular garbage, not street piles or green waste bins, Treadwell said.
For more tips on leaf season:
www.cityofsacramento.org
and follow links to "Leaf Season."