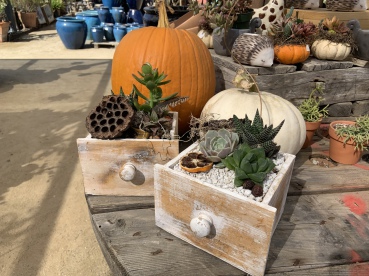 Succulents make great living arrangements for the holidays and later. The Secret Garden workshop can show you how.
(Photo courtesy The Secret Garden)
Learn how to make a living holiday arrangement
Wondering what to do for a centerpiece this Thanksgiving? Make a living succulent arrangement for holiday entertaining.
Such arrangements look good any time and last for months (or longer). They also make great gifts.
Learn how to make your own during The Secret Garden's upcoming "Wine and Succulents Workshop," set for 6 p.m. Wednesday, Nov. 20.
With a relaxing and fun atmosphere, the gathering will be held at Scotto's Wine and Cider Bar, 14 S. School St., Lodi.
"We will be creating a beautiful indoor succulent arrangement using a variety of succulents and dried botanicals," say the organizers. "We will cover succulent care, compatibility, arrangement design basics, and how to transition your arrangement through the seasons."
So your holiday centerpiece will be good for Valentine's Day and Easter, too!
The $50 registration fee covers all materials, instruction and your first glass of wine or cider. This class fills quickly, so sign up now. Call (916) 682-6839 or go to
https://squareup.com/store/the-secret-garden-2/item/wine-succulents
.
Information:
www.secretgarden-online.com
and
www.scottoswineandcider.com
.