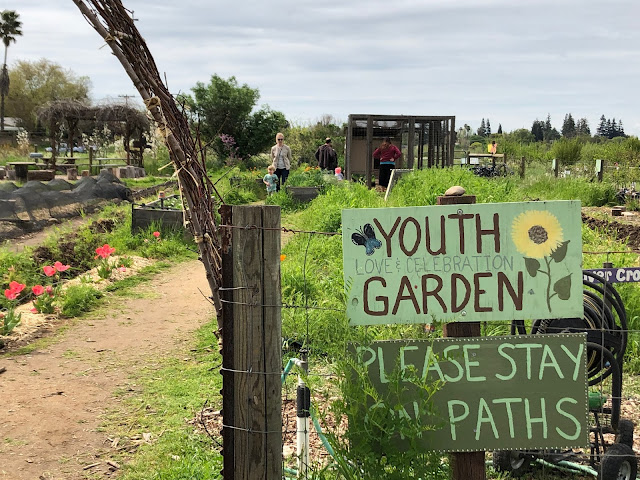 Soil Born Farms' American River Ranch is kid-friendly. Families can spend Saturday at the Farm this weekend. (Photo:
Rancho Cordova site hosts day of family fun
The fall weather's still lovely, perfect for a family outing this weekend. And Sacramento-area residents won't have to go far to find a good spot.
Soil Born Farms, the urban agriculture and education project, opens its American River Ranch in Rancho Cordova this Saturday, Nov. 16, for Saturday at the Farm.
The events run 9 a.m. to 1 p.m. and will feature music by Doug Newton, plus a variety of free kids activities: creating seed mosaics in the Activity Tent, building fairy and gnome homes in the Enchanted Garden, and making music on the instrument fence in Li'l Sproutville. The site offers plenty of room for kids to play and explore, too.
The Soil Born Culinary Arts team will hold a fundraiser, offering Indian red lentil soup and kale-roasted squash salad served with garlic naan. Their creations will be available at the Farmhouse Kitchen window starting at 10 a.m. until sold out.
Other foods and beverage will be available at Phoebe's Tea & Snack Bar, including baked goods from Old Soul Co. and various pies from Sacramento's Real Pie Company.
Gardeners can find organic seeds, seasonal veggie and flower starts, herbs, fruit trees and handcrafted garden boxes at the Greenhouse Garden Shop. The Farmstand also will be open, with a large selection of farm produce, including herbs, many kinds of winter squash, Pink Lady apples, pomegranates and persimmons. And anyone working through their holiday gift list can browse the garden tools and other items at Milly's Mercantile.
If you like to start your day off with a brisk walk, on Saturday from 8 to 10 a.m. Soil Born also offers a bird walk with naturalist Cliff Hawley. There's still time to sign up on their
website
; cost for the bird walk is $10.
American River Ranch is at 2140 Chase Drive in Rancho Cordova. Biking or walking to the ranch is encouraged. There is parking nearby, but be prepared to walk in; comfortable shoes are a must.
-- Kathy Morrison