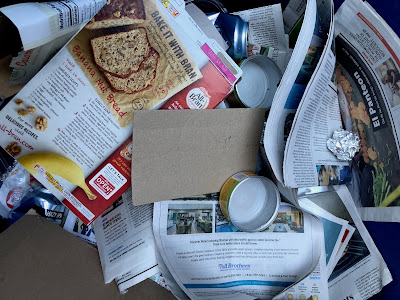 What happens to all this stuff after it's picked up for recycling? Find out
Saturday during America Recycles Day. (Photo: Kathy Morrison)
Family fun, learning opportunities planned at Sacramento event
Like nature, gardeners are constant recyclers. Learn the latest recycling tips and how your community daily conquers mountains of waste during America Recycles Day.
Set for 10 a.m. to 2 p.m. Saturday, Nov. 16, the local celebration will be hosted by the Sacramento Recycling and Transfer Station, 8491 Fruitridge Road, Sacramento. Fun for the whole family, the event is open free to the public.
Take a behind-the-scenes tour to see what happens to bottles, cans, papers and more. (Be sure to wear closed-toe shoes if you want to go on the tour.)
The popular "Touch-a-Truck" exhibit lets kids -- and grown-ups, too --  climb aboard a garbage truck and construction equipment as well as check out a fire engine and a police car.
A bounce house, arts and crafts, face painting and games will keep youngsters entertained. Drewski's Food Truck will offer refreshments for purchase.
Details:
RecyclingFun.com
.