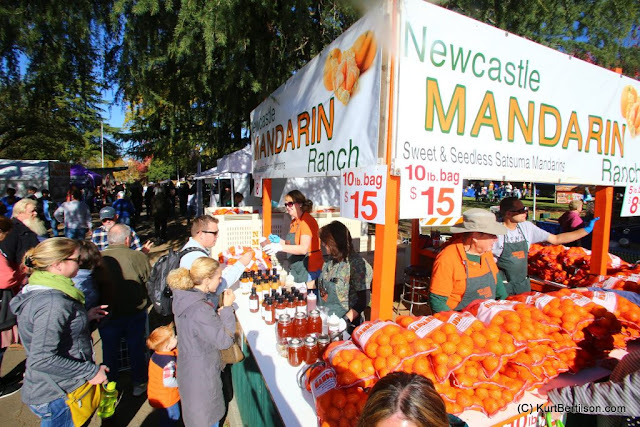 Taste fresh mandarins as well as many mandarin products at the
26th annual Mountain Mandarin Festival.
(Photo: Courtesy Mountain Mandarin Festival)
Celebration of little citrus set for three days in Auburn
Are you ready for some citrus? Mandarins are starting to ripen, which means its time for the 26th annual Mountain Mandarin Festival.
Friday through Sunday, the festival will pack the Gold Country Fairgrounds with all things mandarin orange. Local growers will offer samples as well as fruit for sale or mail order.
Hungry or thirsty? Find a menu full of mandarin-inspired items including wood-fired mandarin pizza, mandarin-glazed kettle corn, mandarin-glazed mini-donuts, mandarin-pork tater tots, vegetarian mandarin chili plus mandarin funnel cakes, milkshakes, fudge, almonds, pistachios and much more. This year also features mandarin-spiked cocktails made with mandarin-infused Tito's vodka.
Five buildings will be packed with vendors offering all sorts of mandarin-related products.
Among the booths will be the Placer County master gardeners, who will offer their 2020 gardening guide and calendar. Get your holiday shopping done early!
There's also a mandarin cooking contest, 5K and 10K fun runs, free flu shots and much more.
Gold Country Fairgrounds is located at 1273 High St., Auburn. Festival hours are 11 a.m. to 5 p.m. Friday, Nov. 22; 9 a.m. to 5 p.m. Saturday, Nov. 23; and 10 a.m. to 4 p.m. Sunday, Nov. 24.
Admission is $6 Friday and $10 Saturday and Sunday. For ages 60 and up, a senior special of $6 is offered on the weekend, too.
Details:
www.mandarinfestival.com
.