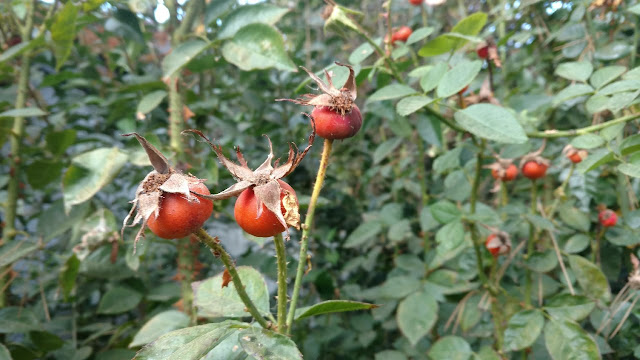 It's rose hip season as bushes start producing their fruit. (Photo: Debbie Arrington)
Sacramento's world famous City Cemetery rose garden hosts tour
It's rose hip season at the Historic City Cemetery. Plenty of roses are still in bloom, too. Combined with autumn foliage, this makes for a spectacular mix.
See the cemetery's world famous rose garden in its autumn splendor during a tour at 10 a.m. Saturday, Nov. 23. Open free to the public, "Fall Color in the Rose Garden" showcases this special place during this fall season.
"Join Rose Garden docents as they show you brilliant foliage, late blooms and colorful rose hips," say the organizers. "Birds will serenade you and color will amaze you on this leisurely stroll through a place where gardens grace graves and time stands still."
This is a walking tour; please wear sensible shoes since some surfaces may be uneven.
Free parking is available on surrounding surface streets.
Meet at the cemetery's main gate, 1000 Broadway, Sacramento.
Home to a collection of varieties and species roses found nowhere else, the rose garden is located to the right of the entrance.
"You'll see, sniff, examine and learn about the wide variety of roses in our award-winning rose garden," say the organizers.
Details:
www.cemeteryrose.org
.
- Debbie Arrington