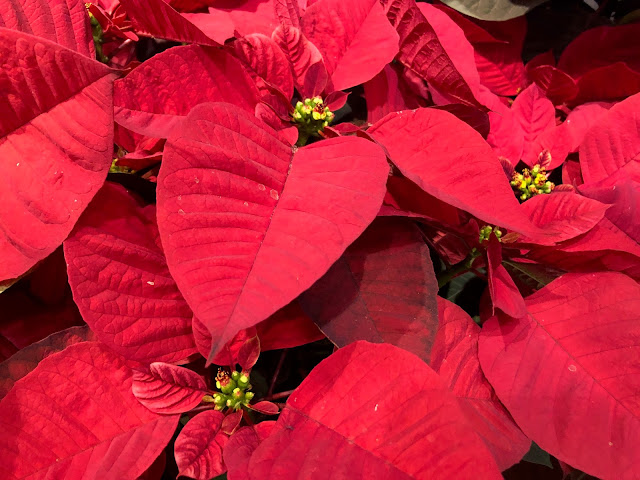 Soon the holiday palette will shift from autumn-leaf oranges and yellows to poinsettia-reds and greens. Area nurseries can help provide the color. (Photo: Kathy Morrison)
Special events feature family-friendly activities
Whether or not you are ready for the holidays, the area's nurseries are going to be ready for you. Several have holiday events and celebrations on the calendar. The ones here are all on the same weekend, so there's bound to be one nearby. Note the dates now and next week you can plan for something other than how to use the Thanksgiving leftovers.
-- Saturday, Dec. 7, Plant Foundry Nursery & Store, 3500 Broadway, Sacramento.  The urban nursery holds its 5th annual Holiday Open House from 9 a.m. to 5 p.m. Santa will visit, of course, but there will be other activities as well: Crooner Mitch Franco will serenade visitors from 1 to 3:30 p.m. 4RFriends will bring adoptable pets.  Drink and food will be available from Beers in Sac and Bambi Vegan Tacos. The gift shop and Christmas tree lot will be well stocked. Edible Pedal will be available to deliver trees to surrounding neighborhoods; delivery fee and tips will benefit the Sacramento chapter of the nonprofit Trips for Kids. Leashed dogs welcome. 916-917-5787 or
plantfoundry.com
-- Saturday and Sunday, Dec. 7-8, High-Hand Nursery and Art Gallery,  3750 Taylor Road, Loomis. The nursery, historic fruit shed and art gallery will be filled with decorating items and gifts during the Steampunk Victorian Holiday Faire, 10 a.m. to 8 p.m. At 5:30 p.m., they flip the switch on thousands of lights. The cafe will serve dinner from 5:30 to 8:30 p.m.; call 916-652-2064 ext. 2 for reservations. The Holiday Faire, including visits with Steampunk Santa, continues Sunday from 10 a.m. to 5 p.m.
www.highhandnursery.com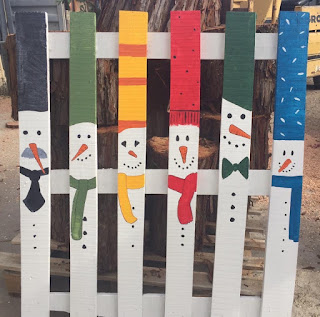 This is an example of the Snowman Family holiday project
at The Secret Garden. (Photo courtesy The Secret Garden)
-- Saturday, Dec. 7, The Secret Garden, 8450 W. Stockton Blvd., Elk Grove. The nursery's Family Day will offer an all-ages workshop at 10:30 a.m. to make a "Snowman Family." It's a cute group of snow people in colorful hats, painted on a 4-foot fencelike structure, perfect for holiday decor. Secret Garden will provide the white background so families can have fun personalizing their project. $39 per family, all materials provided. Call 916-682-6839 or go to the
ticket link
. Kids can also take pictures with Mrs. Claus, who will be visiting. (The Secret Garden also will offer a holiday arrangement workshop 10:30 a.m. Dec. 1; cost is $49. Register
here
.) All workshop participants also receive a 15 percent off coupon for any regular-priced merchandise in the store.
-- Saturday and Sunday, Dec. 7-8, Amador Flower Farm, 22001 Shenandoah School Road, Plymouth. The big site in the Shenandoah Valley will host a visit from Santa both days, from 11 a.m. to 3 p.m. Weather permitting, the farm will offer rides on its Candy Cane Tram. Cider and cookies will be available, and the Christmas shop will be open. Also on Dec. 8, the Flower Farm will be part of the Shenandoah School Road Holiday Open House, along with the several wineries (Cooper, Terra d'Oro and others) located along the road, 11 a.m. to 4 p.m. 209-245-6660 or
www.amadorflowerfarm.com
-- Kathy Morrison