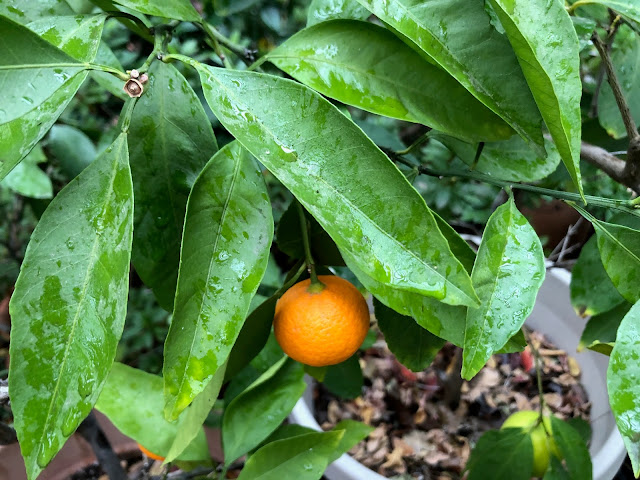 Raindrops already were washing the leaves of this satsuma mandarin by mid-afternoon Tuesday. Much more rain is expected the next few days. (Photo: Kathy Morrison)
Make a late check before the storm really gets going
The Thanksgiving week rain has already started in some areas. If you haven't already, do a quick late check around the garden before dark, when showers are due to intensify. And Wednesday definitely will be wet:
-- Make sure downspouts from roof gutters are cleaned out and allowing rainwater to flow. Push leaf piles out of the street gutter, also. Check that walkways are not covered with leaves.
-- Let this rain give all your plants a good soaking. Pull potted plants out from under eaves so they can get a drink, too. Remove saucers from under pots and dump any accumulated water. (That's prime mosquito-breeding territory.)
-- Are all your tools (and anything else that could rust) under cover? We are spoiled by our usually dry weather and get in the habit of leaving things outside.
-- Make sure sprinklers are turned off. With more rain due this weekend and next week, no extra watering should be needed for awhile.
Then, scurry inside and enjoy Mother Nature's natural irrigation system.
and Kathy Morrison