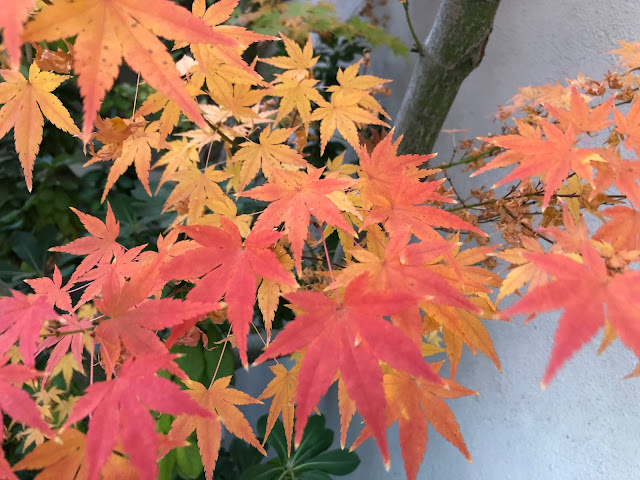 This Japanese maple tree's best gift is its late-fall beauty on a grey day. (Photo: Kathy Morrison)
So much to be thankful for
The world is cloudy and soggy this Thanksgiving morning in the Sacramento Valley. We worried and worried about whether we'd get any precipitation this fall, and now that it's here -- with more expected all next week -- we gardeners can be thankful. The seedlings and new plants we put in earlier this season got a healthy drink, and the soil will soften and relax. The sprinkler system is off-duty for the time being.
It's a good day to think about such things, the gifts we receive as gardeners:
-- Pollinators who do their thing in the garden without any prompting, and do even more with a little encouragement (and plants they love). From almonds to zucchini, the area's crops and our home gardens depend on the bees, birds, butterflies and other insects.
-- The trees that shade our homes and give us mulch in the fall, as well as provide food -- even if just for wildlife (oh, those squirrels!) -- and homes for birds.
-- The magical soil below us, full of nutrients and microbes and earthworms and so many things we're not aware of as we walk over it.
-- Our gorgeous Mediterranean climate, which even as it's changing lets us work outside nearly year-round and grow so many things so well that we're the envy of the rest of the country's gardeners.
--The wonder of tiny seeds that turn into 2-pound tomatoes with just the right amount of care.
-- Finally, the generosity of fellow gardeners, who give freely of seeds, plants, produce, tools and advice. If someone says, "Oh, you're a gardener, too!" you have instant rapport. It's a community to cherish.
Happy Thanksgiving, everyone.