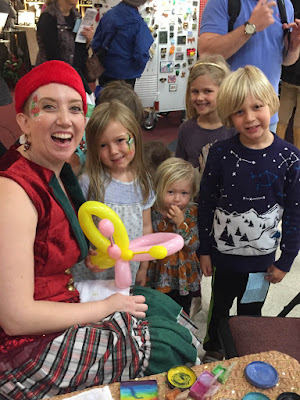 The Moonbeam Pixie Tribe offers free face-painting and
balloons for kids during the Crocker Holiday Artisan Market
this weekend. (Photo courtesy Crocker Holiday
Artisan Market)
Crocker spotlights regional artisans; global market showcases charities
Worried about stormy weather dampening plans during this holiday weekend? Here are two uniquely Sacramento events, all indoors, that combine shopping with charity.

Support local artists and craftspeople along with a good cause at the annual Crocker Holiday Artisan Market, Friday through Sunday at the Scottish Rite Center.

More than 100 regional artists offer their work during this huge event. Kids can get selfies with Santa while also enjoying some creative face painting.

"Browse through booths filled with juried works in glass, textiles, wood, ceramics, paper, photography, art jewelry, paintings and sculptures, all offered in a variety of price points," say organizers. "Proceeds from the event support participating artists, Crocker Art Museum's exhibitions and educational programs, and Creative Arts League of Sacramento's arts outreach to Mustard Seed School, low-cost art tours, and other important community programs."
Admission is $8; students and seniors, $7. Children age 12 and under admitted free. Hours are noon to 6 p.m. Friday, 10 a.m. to 5 p.m. Saturday and 10 a.m. to 4 p.m. Sunday. The Scottish Rite Center is located at 6151 H St., Sacramento. Details:
www.crockerholidayartisanmarket.com
.

Across the intersection from the Scottish Rite Center is another big arts mart: The Christmas Market at the Fremont Presbyterian Church, 5770 Carlson Ave.
Open from 9:30 a.m. to 4 p.m. Saturday and 9:30 a.m. to 1:30 p.m. Sunday, this market offers wares from charitable organizations and fair trade artisans from around the world. Details:
www.fremontpres.org
.