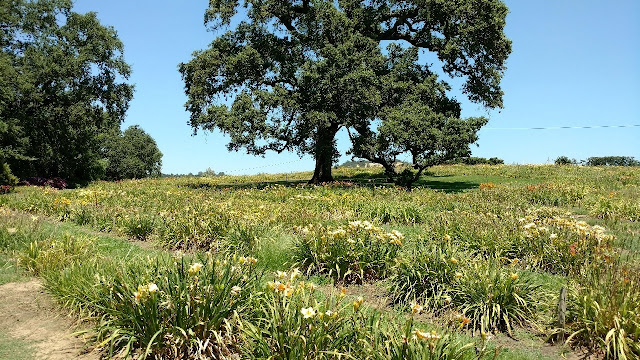 The daylilies won't be blooming like this, but the trees and the gorgeous scenery will be there this weekend at Amador
Flower Farm. So will Santa! (Photo: Debbie Arrington)
Weekend events include hot cider and nearby wine tastings
Ride the Candy Cane Tram and sip some cider – or wine – during the holiday celebration at the Amador Flower Farm.
From 11 a.m. to 3 p.m. Saturday and Sunday, Dec. 7 and 8, the destination farm – home to millions of daylilies – will host Santa while offering hot cider and cookies. Other holiday festivities are planned, too. Tram tours of the farm will be provided, weather permitting. Admission is free.
The farm's many daylilies may not be blooming, but this is still prime transplanting time. Amador Flower Farm grows more than 1,200 varieties of the popular, drought-resistant perennial. Take some home or give as gifts. The Christmas shop also will be open.
In the heart of Amador wine country, Amador Flower Farm also will be a stop Sunday during the Shenandoah School Road Holiday Open House, featuring several of its neighbor wineries including Cooper Vineyards, Terra D'Oro and Wilderotter. Besides tastings, the wineries will be serving snacks, too.
And yes, you can uncork a bottle under the farm's massive oaks. Far from the maddening crowds at malls, the farm's picnic areas will be open, offering a breath of serenity during this hectic season.
Amador Flower Farm is located at 22001 Shenandoah School Road, Plymouth.
Details:
www.amadorflowerfarm.com
.
-