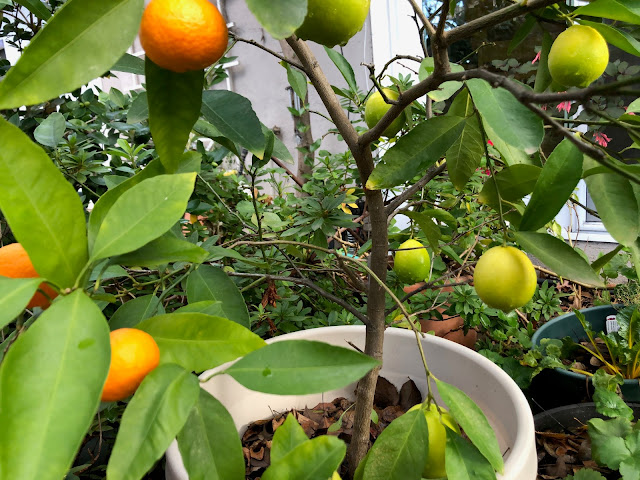 Those are limes on the right, not lemons -- they're ripening and need to be picked soon. The satsuma mandarins on the left
should be harvested, too. (Photo: Kathy Morrison)
After soggy start, dry gardening days ahead
Despite the soggy start, this week looks like it will have prime winter gardening weather.

According to the National Weather Service, Sacramento can expect several dry days after Sunday showers taper off. High temperatures will be comfortably in the 50s.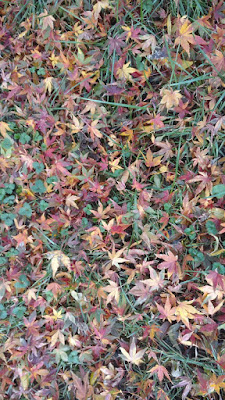 It's time to rake the lawn! (Photo:
It's time to get outside and take care of business. Tidy up the mess left by the weekend's wind and rain. Rake up fallen leaves. Pick up citrus knocked down by wind. Make sure gutters are clear of debris.

Then, take advantage of that nice moist soil. Plant something. December starts bare-root season with new roses and fruit trees coming into nurseries or available online. It's also a good time to move dormant perennials.

Here are other early December tasks to add to your list:

* Plant bare-root berries, kiwifruit, grapes, artichokes, horseradish and rhubarb. Beware of soggy soil. It can rot bare-root plants.

* Prune non-flowering trees and shrubs while they're dormant.

* Rake and remove dead leaves and stems from dormant perennials.

* Brighten the holidays with winter bloomers including calendulas, Iceland poppies, pansies, primroses and snapdragons.

* Plant for spring, too, including sweet pea, sweet alyssum and bachelor buttons.

* Lettuce, cabbage and broccoli seedlings also can be planted now.

* Plant garlic and onions.

* Harvest lemons and other early citrus.

* Pick the last of the persimmons, pomegranates, pears and apples.