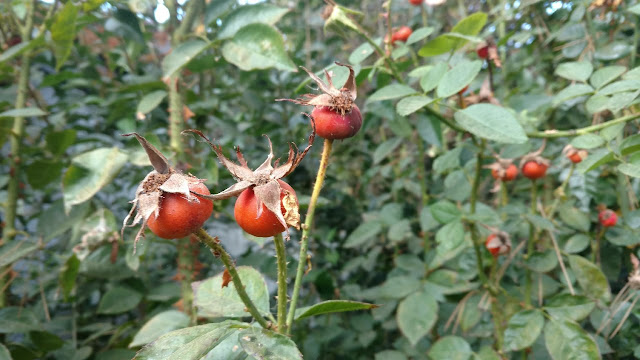 Let rose hips form to cue your bush to take a nap. (Photos: Debbie Arrington)
What to do when your roses won't stop blooming and it's time to prune
It's time to tell your roses: Knock it off!
November's mostly dry and relatively warm weather coaxed bushes to just keep flowering.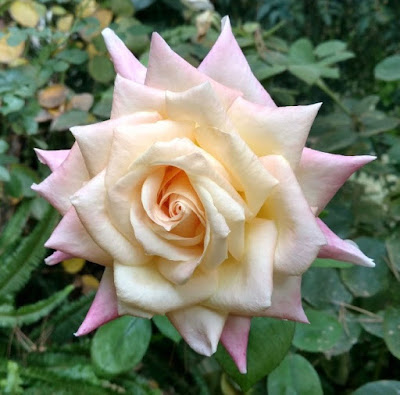 Some roses just won't quit, such as this Diana,
Princess of Wales
hybrid tea,
still blooming in mid December.
Although I appreciate the bonus December blooms, that makes it hard to winter prune.
Roses need pruning to revitalize the bush and reset their biological clock. Otherwise, canes sprout atop canes, creating tangled messes 10 feet tall (or more) with blooms way out of reach.
You can't smell the roses if they're way over your head.
How do you get a rose bush to slow down and take a winter break? Allow rose hips – the rose fruit – to ripen. Instead of clipping off spent blooms, let the hips that swell at the base of each flower turn deep red-orange. That cues the plant that its work is done for this year.
After the hips mature, the bush will drop its leaves and stop pushing out fresh growth. That makes winter pruning much easier; stripping the bush of all foliage is part of the process.
When is the best time to prune?
"I usually recommend it's a great time to prune in the Sacramento region from approximately Dec. 15 to Jan. 31 or, if really necessary, up to the first week in February," said T.J. David, founder and curator of the World Peace Rose Garden at the state Capitol.
Several local pruning clinics and events are planned for early January, including the McKinley Park prune-athon on Jan. 4. (More on those events later.)
My annual goal is to get my roses pruned by Super Bowl Sunday; that will be Feb. 2.
Meanwhile, I'll pick a few last bouquets – and think about making rose hip jelly.