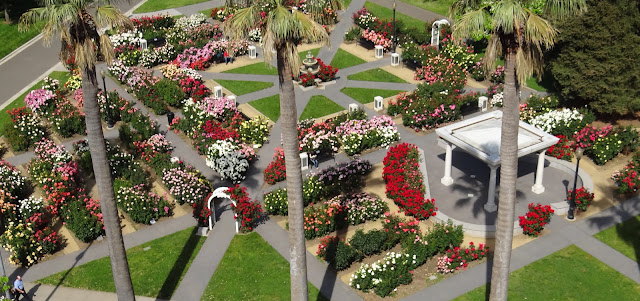 This is the State Capitol World Peace Rose Garden in full bloom. To get those roses looking their best, founder and curator T.J. David starts pruning in mid-December. (Photo courtesy International World Peace Rose Garden)
Three-step quick method makes it simple
A whole lot of cutting is going on. It's rose-pruning season in Sacramento.
From now through early February, local rose growers and public gardens will be busy, snipping away on bushes. It's an annual shore that revitalizes the plant and brings more blooms in spring.
T.J. David, founder and curator of the International World Peace Rose Garden at the state Capitol, usually starts his pruning around Dec. 15. He offered this advice:
"I recommend visiting various public gardens to see how the roses look after they are pruned such as the State Capitol World Peace Rose Garden, Natomas Library Rose Garden, or McKinley Park Rose Garden," David said. "For old garden roses, one can visit the Sacramento Historic Cemetery Rose Garden. Then, model your roses to look similar to the types of plants you see."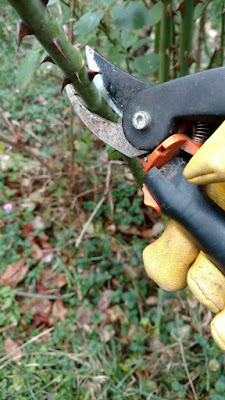 Bypass pruners make a clean cut.
(Photo:
Debbie Arrington)
David, who has nearly 500 bushes to prune, tackles his roses systematically.
"I've used the three-step quick prune method for over 30 years on hybrid tea, grandiflora, floribunda, mini-floras, miniatures and Austin (shrubs); almost everything except climbers," he said. "If it looks like a rose bush, then it will most likely benefit from pruning."
It's not about the height, but proportion. The goal is to reduce the plant by about half.
"Some roses are small, medium, large or extra-large," he added, "yet pruning is done in proportion to size of rose. Another way to think of pruning it is like an annual hair cut – only it's for your rose bush."
By making it simple, pruning can be fun, David added. (Yes, really!)
Here's his three-step quick prune method:
1. Find and remove weak, dead and old spindly growth in comparison to the rest of the canes on the rose.
2. Find larger older canes that are supporting last year's new growth. Cut spikes about 4 inches to 6 inches long and just above a bud (where the leaf attaches to the cane).
3. Find large new canes that have grown from the lower part of the rose near the bud union. Cut them back about 40 to 50 percent or to about the height of canes in Step 2.
That's it!
David also offered these tips:
* Prune from the rose's bud union (where the rose was originally grafted to its roots, just above the soil line) looking upwards – not top down. "Pruning is much faster when done in this manner," David said.
* Prune to an outside bud as often as possible. "Mother Nature has the final say which bud will really pop and grow amazing blooms for you!" David added.
* Make your cuts about an 1/8-inch above the buds.
* Use bypass pruners for a clean cut. Clean or wipe your pruners periodically (especially after pruning a plant with fungal disease).
* Prune off dieback on canes.
* Remove all the remaining leaves to help induce dormancy or sleep time for your roses.
* Clean up all old leaves and debris around your roses. That helps fight fungal disease.
* When all done, apply fresh mulch around your bushes. They'll appreciate it.