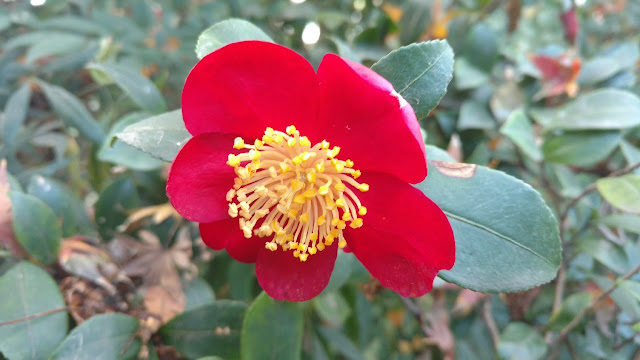 Christmas camellias are now in full bloom. Pick some for a winter bouquet. (Photo: Debbie Arrington)
Make the most of soft soil on dry days
What drought? Recent rain has refreshed our gardens and our water reserves.
After speculation in November that we were heading for a dry winter, the storms washed away any mention of the "D" word.
According to the
National Weather Service
, Sacramento has received more than 3.55 inches so far in December. That increased our seasonal total since Oct. 1 to 4.26 inches – normal for this time period.
By comparison, last season to date was 3.14 inches.
Make the most of soft soil during dry days to get things done:
* Pick a winter bouquet to enjoy indoors. Christmas camellias are enjoying this weather and are now in full bloom.
* Prune non-flowering trees and shrubs while they're dormant.
* Rake and remove dead leaves and stems from dormant perennials.
* Plant cool-season annuals such as calendulas, Iceland poppies, pansies and primroses.
* Plant bare-root berries, kiwifruit, grapes, artichokes, horseradish and rhubarb. Beware of soggy soil. It can rot bare-root plants.
* Just because it rained doesn't mean every plant got watered. Give a drink to plants that the rain didn't reach.