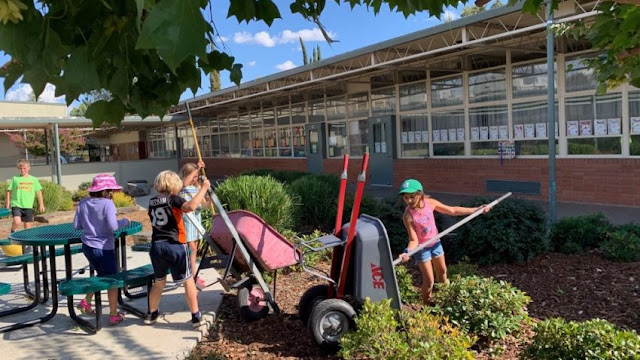 Mission Avenue Elementary School in Carmichael was one of the 2019 grant recipients. Planting, weeding and mulching get the students involved in their garden. (Photo courtesy Sacramento Perennial Plant Club.
Applications available now from Sacramento Perennial Plant Club
Do you want to start a community garden? A school gardening project for kids? Or continue green thumb work in progress?
Better call Saul – the Saul Wiseman Grants, that is.
The Sacramento Perennial Plant Club is now seeking applications for its annual Saul Wiseman Grants, named for the club's former president. But you need to act fast: The garden grants deadline is Jan. 15, 2020.
Each year, the Sacramento Perennial Plant Club awards Saul Wiseman Grants to nonprofit organizations' gardening projects located in Sacramento County. The purpose of the grants is to promote garden and horticultural education, service and enhancement in our community. The grants will be awarded in February 2020.
Grant money in 2019 went toward a new butterfly garden in Natomas plus school gardens in Carmichael, Sacramento and Rancho Cordova.
Visit the
Sacramento Perennial Plant Club
website for a grant application and photos of grant-funded projects from previous years.
For further information, contact Jane Thompson at
sppcgrants@gmail.com
.
Details:
www.sacramentoperennialplantclub.org
.