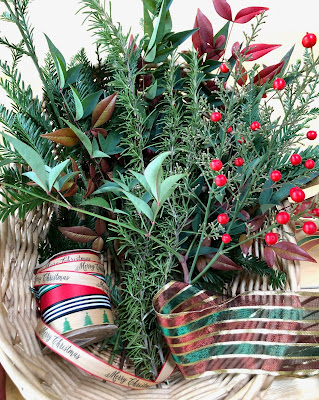 Evergreens such as rosemary and redwood, with a splash
of color from nandina leaves and berries, are the makings
of a holiday arrangement. Festive ribbon can tie it all together.
Be sure to soak the foliage first.
(Photo: Kathy Morrison)
Use evergreens, holly and other garden clippings
Deck the halls with boughs of holly – and just about any good-looking evergreen.
For centuries, holiday revelers have brought pieces of evergreen indoors to bring in the scent of the season as well as add a festive natural touch to decorations.
These quick and easy decorations can be as simple as greens arranged loosely in a vase, tied with a bow. Get out your pruning shears and snip some evergreen foliage, such as 2-foot pieces of redwood, juniper, cedar, cypress, pine or fir. (These may come off the bottom of a Christmas tree, too.) Stems of citrus foliage or rosemary will work. Like evergreens, citrus leaves and herbs add scent as well as bright green color.
Don't forget holly; its shiny foliage and cheery red berries almost shout, "Happy holidays!" With red-orange berries, pyracantha and nandina (heavenly bamboo) also make attractive accents.
Before displaying, soak the foliage in lukewarm water for 20 minutes, then gently shake or drip dry. That bath rehydrates the needles or leaves and helps them retain their freshness.
Stick some stems of foliage in a vase with water; remove any leaves or needles that will be below the water line. Add a ribbon bow and it's an instant centerpiece.
Pieces of evergreen can be turned into super-easy garlands. After stems have been washed and dried, lay stems on a mantle or tabletop, or weave them around stair bannisters. Tuck them around picture frames or mirrors. Bend, twist and braid stems into a rustic wreath. Use thin wire and ribbon to tie in place. Accent with more garden gleanings such as pine cones, seed pods and rose hips.
Another easy decorating idea the natural way: A bowl of red and green apples. The shiny fruit makes an instant (and edible) centerpiece in the colors of the season.