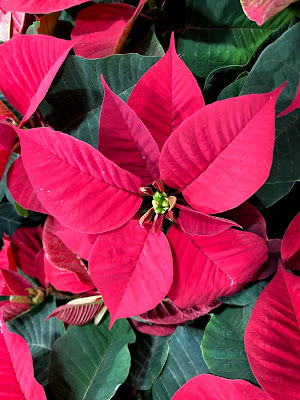 Red poinsettias are by far the most popular, but Eisley
Nursery grows 12 varieties. (Photo: Kathy Morrison)
Eisley Nursery expert offers advice on how to care for this holiday favorite
It's poinsettia season and, if you bought your plant in the greater Sacramento area, chances are it was grown in Auburn at Eisley Nursery's greenhouses.
"We grew 28,000 total this year – how's that for a number?" said Earlene Eisley-Freeman, retail manager of the family-run nursery. "That's about the same as last year."
Celebrating its 87th anniversary this year, Eisley Nursery has been growing potted poinsettias for the Sacramento market for at least half a century.
One thing has remained consistent all those decades: People want red.
"Red is by far the most popular (poinsettia)," Eisley-Freeman said. "Red is what people buy most, but we do grow them in 12 different 'flavors.' There are more varieties than plain red."
Yellow, pink and white poinsettias also are available. So are ones with variegated bracts.
"I personally have a favorite – a gorgeous burgundy," Eisley-Freeman said. "Its variety is Cortez Burgundy."
Nursery patriarch Earle Eisley, whose mother founded the nursery in 1932, has a poinsettia pick with a difference, too.
"Dad's favorite is Ice Punch," Eisley-Freeman said. "(The bracts) have pink centers and red borders. It's really pretty."
This season, the poinsettias look especially nice, she noted. "They seemed to like the weather. Actually, they colored up real good."
Of course, Eisley's poinsettias stay indoors and out of the wind or rain.
"They do not do well outside here at all!" Eisley-Freeman said. "In Sacramento, they are indoor plants only. On a sunny day, maybe you can put them outside for a few hours. But they won't be happy."
Native to temperate coastal areas with winters in the 70s, poinsettias can be finicky. A member of the euphorbia family, they can't take too much cold or heat, preferring temperatures between 65 and 75 degrees.
Said Eisley-Freeman, "They're like Goldilocks; they like it just right."