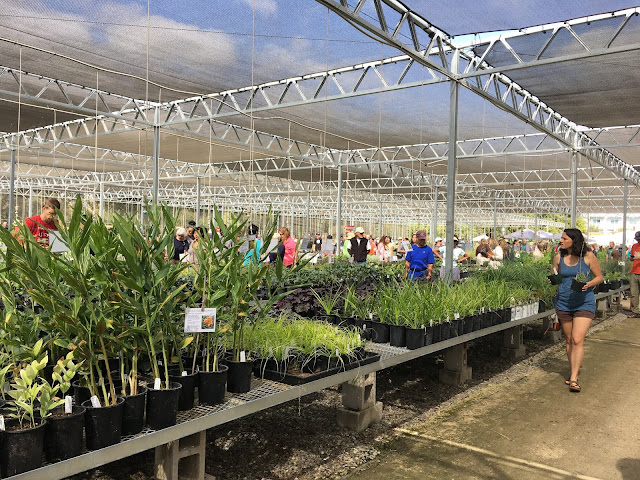 A plant sale at the UC Davis Arboretum's Teaching Nursery is something to see. Members get 10 percent off prices, plus other benefits. (Photos: Kathy Morrison)

Help the UCD Arboretum or California native plants with these gifts
All those "time's running out" and "last-minute gift idea" promotions do nothing but provoke anxiety, as far as I'm concerned.
So there's plenty of time for these two gift ideas, if you haven't thought of them already. They're great for a gardener you know, and for yourself. They come with yearlong benefits, and they help two terrific institutions that work hard to promote smart and beneficial horticulture.
The first is our area treasure, the 100-plus-acre Arboretum and Public Garden at the University of California, Davis, along with its 1-acre Teaching Nursery.  The nursery's spring and fall plant sales are a must-attend for gardeners interested in climate-appropriate plants. There will be four plant sales this spring, and the first, on March 14, starts with two hours of members-only shopping. And members get 10 percent off any plant they buy at any of the sales. (The other sales will be April 4, April 26, and May 9.)
Joining the Friends at even the basic individual level ($48) brings other benefits, too:
-- A special gift at the March 14 Member Appreciation Sale.
-- Thank you gift for new members.
-- Two days of complimentary parking at UCD (that's worth $18 right there).
-- Free admission and discounts at more than 280 botanical gardens, including 33 around California.
-- 10 percent discounts at Davis-area retail gardens: Davis Ace Hardware, Redwood Barn Nursery in Davis, Lemuria Nursery in Dixon and Silverado Building Materials & Nursery in Sacramento.
-- Member newsletter with seasonal gardening advice.
Benefits increase for Family ($72) memberships. At support levels of $120 (Manzanita Circle) and up, discounts and VIP events add up.
Check out all the membership
details here
.
By the way, the Arboretum is recruiting now for its 2020 volunteer corps. These folks work with the Arboretum staff to keep the gardens looking good. The
deadline for applications
is Jan. 17.
My second suggestion for a gift membership is the
California Native Plant Society
. Membership levels start at $50. This nonprofit organization does a lot of heavy lifting in the state to promote and protect California native plants and native habitat. Their botanical experts are top-notch, and their advocacy crew at the state Capitol is savvy and effective. I wrote for the membership magazine, Flora, for two years and was very impressed with the dedication of the staff.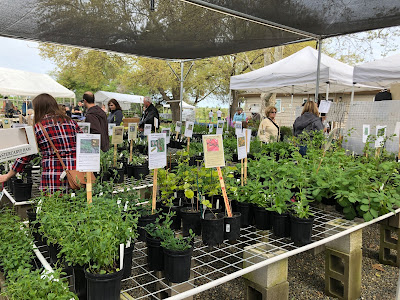 Elderberry Farm twice a year sells native plants raised by Sacramento Valley
The
Sacramento Valley Chapter
is one of 35 in the state, and is one of the most active. Elderberry Farm is the chapter's native plant nursery, on the Soil Born Farm property in Rancho Cordova, and if you haven't checked out the twice-yearly plant sales there, you've really missed out. Other busy chapters in the region are
El Dorado
and Solano County's
Willis Linn Jepson Chapter
.
Most chapters have monthly meetings; the next meeting for  Sacramento Valley is 7 p.m. Jan. 8 at the Shepard Garden and Arts Center in McKinley Park, Sacramento. It will feature a talk by CNPS' own executive director, Dan Gluesenkamp.
CNPS and its chapters organize plant hikes, restoration projects, rare-plant treasure hunts and many other activities. Members receive Flora magazine four times a year and the research-focused Fremontia twice a year.
I do want to mention that the Sacramento region has many plant-specific garden clubs and organizations -- too many to list here -- that also would welcome a new member, from a gift or otherwise.
Happy giving for happy gardening in 2020!