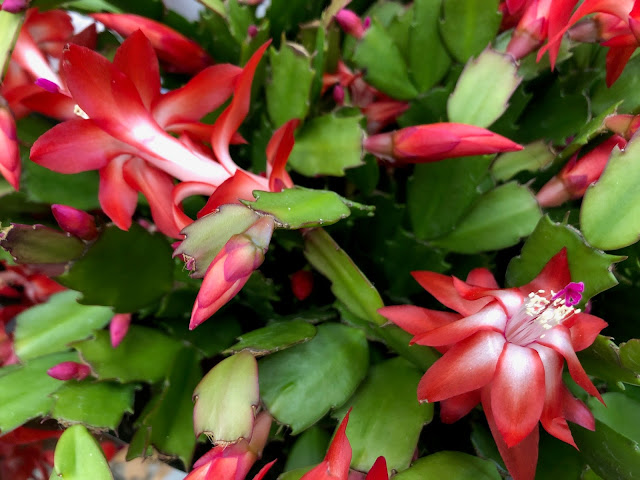 Christmas cactus need moderate light to bloom. Treat them much like poinsettias. (Photo: Kathy Morrison)
These tips will lengthen the joy of poinsettias, Christmas cactus and evergreens
Did you receive or purchase a holiday plant? Keep poinsettias and other favorites looking their best – at least a little longer – with these expert tips:
Poinsettias
* Poinsettias will last longer if placed in a warm sunny location away from heating vents or drafts. Poke holes in the foil wrapper for drainage and place the potted plant on a plate or saucer.
* Place potted poinsettias indoors in indirect light. Six hours or more of light (natural or fluorescent) is best.
* Keep poinsettias comfortable, ideally between 65 and 75 degrees, day or night. Lower temperatures will make them drop leaves almost immediately and shut down. Higher temperatures also shorten their life cycle.
* Limit their exposure to outside temperatures; they can't take any chill for extended periods. If using potted poinsettias for a porch display, place them outside just before your guests arrive. Don't leave them outside overnight.
* The red, yellow or pink bracts are actually modified leaves (not flower petals), but they'll retain their color long after the true flowers – those little yellow knobs – brown and wither. When choosing a plant, look for tight flowers that haven't opened. The plant will keep its color longer.
* Check the soil daily. Water the plant when soil feels dry to the touch, but don't let it get soggy. Allow water to drain into the saucer; discard excess water. Wilted plants tend to drop bracts sooner.
Christmas cactus
* Treat much like poinsettias. These succulents are native to coastal Brazil and prefer temperatures on the warm side, ideally 65 degrees.
* While assuring good drainage, keep soil evenly moist while cactus is blooming, misting it once a day.
* These plants need moderate light to bloom. Place the cactus in an east-facing window so it can get some direct sun.
* To keep this cactus in flower, fertilize every two week with high potassium fertilizer.
Living Christmas trees
* Evergreens aren't meant to grow indoors; there's not enough light. Once your celebrating is done, get your tree or other potted evergreens outdoors as soon as possible to limit their stress. Otherwise, they'll start dropping needles en masse – just like a cut tree.
* While it's indoors, make sure the tree stays watered. Keep the soil moist, not soggy.
* Give the tree as much light as possible, but keep away from heat.
* When transferring outdoors, move the plant back into full sun gradually. Let it acclimate on a semi-shaded patio for a few days as the tree re-adjusts to outside temperatures and light.