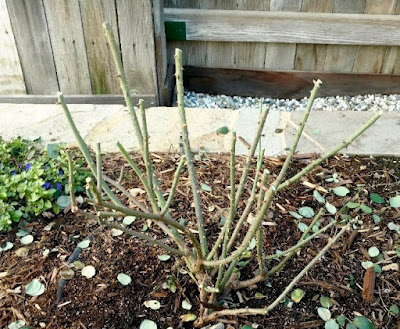 Be sure to strip any remaining leaves off roses when you prune them, then
clean up leaves and debris underneath. Fresh mulch is a good idea, too. Then
this
Lady Hamilton rose will be all ready for spring growth. (Photo: Debbie
Soft ground makes for easy transplanting
Enjoy the winter sun while you can. This has been a rainy December in Sacramento, which is a good thing. It's replenishing our gardens' reserves.

So far, this month's rain totals (4.54 inches) are 60 percent more than last December, with more on the way. But after Sunday's storms, we're expected to get a string of bright, sunny (and chilly) days. The ground is soft, which makes for easy transplanting. Take advantage of it.

This is a great time to plant bare-root roses, trees and shrubs -- even if it's still rainy. If the weather stays wet and your ground seems saturated, consider planting your garden additions in large black plastic pots. This method really gets roses off to a fast start.

The black plastic warms up faster than the ground soil and gives roots a healthy boost. Then, transplant the new addition (rootball and all) into the ground in April as the weather turns to spring.

Elsewhere in the garden during these last days of 2019 and the first of a new decade:

* Prune, prune, prune. Now is the time to cut back most deciduous trees and shrubs. The exceptions are spring-flowering shrubs such as lilacs.
* Prune roses, even if they're still trying to bloom. Strip off any remaining leaves, so the bush will be able to put out new growth in early spring. This also cuts down on fungal disease.
* Clean up leaves and debris around your newly pruned roses and shrubs. Put down fresh mulch or bark to keep roots cozy.
* Enjoy sunny winter days by planting for spring. Transplant pansies, violas, calendulas, English daisies, snapdragons and fairy primroses.
* In the vegetable garden, plant fava beans, head lettuce, mustard, onion sets, radicchio and radishes.
*Plant bare-root asparagus and root divisions of rhubarb.
* In the bulb department, plant callas, anemones, ranunculus and gladiolus for bloom from late spring into summer.