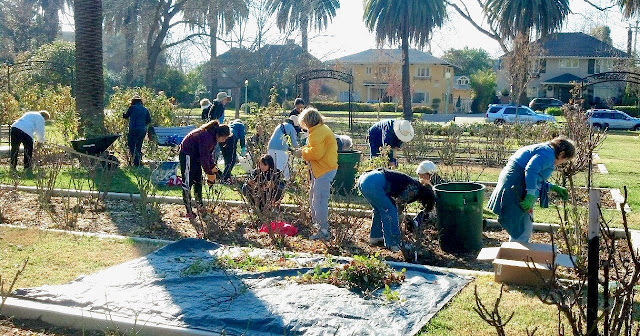 Volunteers again will gather to prune McKinley Park's hundreds of roses; this photo is from the 2014 prune-athon. The Saturday event is open to all, but be sure to bring pruning shears and work gloves. (Photo: Debbie Arrington)
Dry weather expected for huge event to finish pruning 1,200 roses in one morning
Get out your pruners! It's time for one of Sacramento's biggest volunteer gardening events of the winter: The McKinley Park Prune-athon.
Starting at 9 a.m. Saturday, Jan. 4, volunteers will prune the McKinley Park Memorial Rose Garden. Their goal: To finish pruning all 1,200 roses by noon.
"This fun yearly event will be held in dry weather this year! Yay!" said Lyn Pitts, the garden's volunteer coordinator. "But it will be cold, so dress warmly!"
Last year, the prune-athon was almost rained out. But 85 hardy volunteers still showed up and pruned the garden during a steady drizzle.
In East Sacramento, the prune-athon has become a New Year's tradition as the garden community and McKinley Park neighborhood come together to nurture this beloved rose garden. Considered among Sacramento's most romantic places and a popular setting for weddings, the rose garden was featured in the hit movie "Lady Bird."
Friends of East Sacramento, which now oversees this public garden and Clunie Community Center, provides refreshments and lunch for volunteers.
"We order minestrone soup and clam chowder from Evan's Kitchen to feed all the volunteers when we're done," Pitts said. "Everyone is invited and there's no age limit."
Minors and their parents are required to fill out a participation waiver, available by emailing
friendsofeastsac@aol.com
.
McKinley Park is in the midst of a two-year construction project to build a 6 million-gallon storm water vault 22 feet underground. Expected to be completed later this year, the vault project has torn up much of the park. When the vault is finished, $1 million in upgrades including a new baseball field and benches are scheduled for the park.
The rose garden is getting some renovation, too. Pitts and her volunteers recently spread around the roses 150 cubic yards of wood chips donated by Florin-Perkins Landscape Materials. (There's still more wood chips to distribute, too.)
The rose garden is on H Street between Alhambra Boulevard and 33rd Street. Admission is free and no experience is necessary; rose experts will lead pruning demonstrations and offer advice.
Bring work gloves and pruners. And dress in layers; the morning will start in the low 40s before warming into the 50s.
Details:
www.friendsofeastsac.org
.