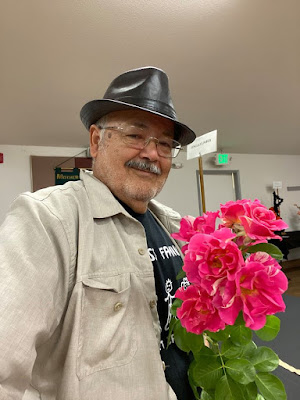 Master rosarian Baldo Villegas shows off one of his winning roses,
Candy Land. He'll offer his tips on quick pruning and rose care during
the Sierra Foothills Rose Society winter workshop.
(Photo courtesy Baldo Villegas)
See how to prune a big bush in three minutes or less
Want to learn how to prune a rose in three minutes or less? Here's your chance – while staying warm and dry.
On Saturday, Jan. 11, the Sierra Foothills Rose Society hosts its annual winter rose care workshop. Unlike most January pruning workshops, this free event will be held indoors at Maidu Community Center, 1550 Maidu Drive, Roseville.
Come for as much or as little of this half-day seminar as you like. It's a great refresher for experienced gardeners as well as a valuable introduction to new rose growers. Registration and refreshments start the morning at 8:30 a.m. with the program under way at 9 a.m.
Renowned master rosarian Baldo Villegas, who grows roses by the thousands, will demonstrate his time-saving techniques including his three-minute method. From 9 to 10:45 a.m., he'll be assisted by other club members as they show how to prune all kinds of roses and answer questions.
At 10:45 a.m., the workshop will cover how to use roses in the landscape, including bushes for small spaces and companion planting. At 11:45 a.m., Villegas – a retired state entomologist – will lead a Q&A on controlling pests and disease.
The club wraps up its rose workshop with a chili cook-off at 12:30 p.m. Participants are welcome to stay for lunch.
"When you leave, you will confidently prune your roses," promise the organizers. Free pruner sharpening will be offered, too.
Details:
www.sactorose.org
or email Charlotte Owendyk at
owendyk@gmail.com
.