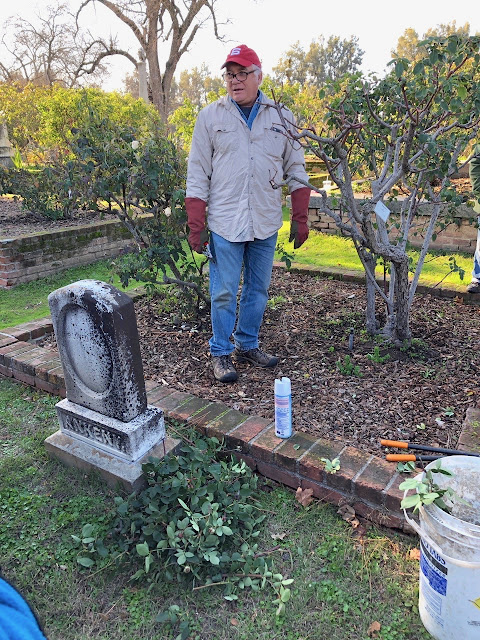 Stephen Scanniello explains pruning techniques while entertaining rose fans at the Historic
City Cemetery in 2019. He'll be back in the area starting Thursday.
Scanniello leads two pruning workshops Saturday, presents preservation talk Thursday
He's back! World-renowned rose expert Stephen Scanniello returns to Sacramento this week to inspire local rose lovers and share some of his vast knowledge.
On Saturday, Jan. 11, he'll lead two pruning demonstrations at Sacramento's Historic City Cemetery heritage rose garden. He'll also make a free presentation about his preservation work at 7:30 p.m. Thursday (Jan. 9) to the Sacramento Rose Society at the Shepard Garden and Arts Center in McKinley Park. On Friday, he plans to visit the Woodland Public Library's rose garden.
President of the Heritage Rose Foundation, Scanniello is a leader in preservation efforts around the globe. Curator of the New York Botanical Garden's Peggy Rockefeller Rose Garden, he also is in charge of the revival of Connecticut's Elizabeth Park, the nation's oldest public rose garden. He's written several books as well as created scores of gardens for private clients.
The cemetery garden is what brings Scanniello west each winter.
"This is my fifth trip to prune at the cemetery," he said by phone from his New Jersey home. "It's a working weekend. I'm looking forward to it."
Scanniello adores the cemetery rose garden, a living library of about 500 antique and old garden roses – many found nowhere else.
"I think it's one of the most interesting rose gardens and collections of roses in the world," he said. "There's not anything like it on the East Coast. To me, it's incredibly refreshing to see these roses growing in what appears to be a safe place.
"It's an amazing collection, a real treasure," he added. "Roses grow so perfectly in Sacramento. They don't have the disease issues we have (on the East Coast). They don't have to contend with winter weather like we do. … Letting roses grow to their full capacity is wonderful to see."
No reservations are necessary to attend Thursday's talk at Shepard Center; the public is invited to attend. The center is located at 3330 McKinley Blvd., Sacramento.
For Saturday's pruning events at the cemetery, attendees should get tickets ($10 donation) in advance. At 9 a.m., Scanniello will show how to prune large climbers – including some of the cemetery's giants. At 1 p.m., he'll tackle shrub roses. The cemetery is located at 1000 Broadway, Sacramento.
Tickets and details:
www.cemeteryrose.org
.