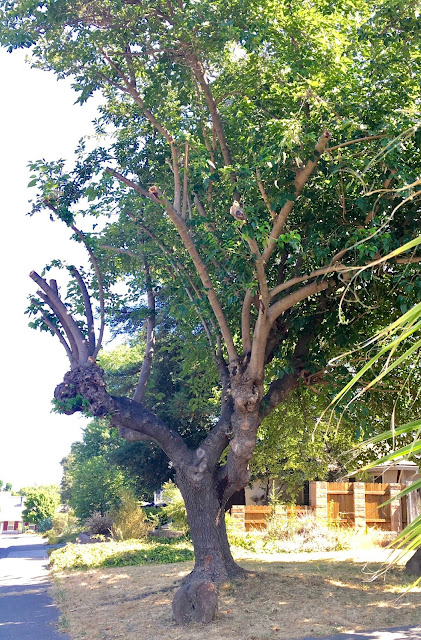 Here's an example of how not to prune a tree: The
street side of this fruitless mulberry
has been hacked
but the residence side still has all its canopy. This
was done in July, at the
height of summer,
rather than during winter dormancy. (Photo:
Kathy Morrison)
Free workshops on the winter calendar
Is there anything in horticulture sadder than a badly pruned tree? Poor pruning practices weaken trees and make them dangerous to people and structures.
Learn proper techniques for pruning landscape trees this Saturday, Jan. 11, from 2 to 3 p.m. at the Pocket Greenhaven Library, 7335 Gloria Drive, Sacramento.
This free workshop will be presented by the UCCE master gardeners of Sacramento County. It's an indoor class that will cover tools and techniques as well as basic cuts. The master gardeners also will discuss the best time of year to prune to ensure your trees heal properly.
For more information on master gardener workshops and events, go to
sacmg.ucanr.edu
.
The Sacramento Tree Foundation, naturally, has a wealth of information on pruning advice at its website,
sactree.com
.
The foundations's next available pruning workshop is Saturday, Feb. 1, 8:45 a.m. to 11 a.m. at Garden Valley Elementary School, 3601 Larchwood Drive, Sacramento. It includes an indoor classroom portion and outdoor field training to practice pruning in small groups on young trees.
There is no charge for the workshop, but anyone interested is asked to sign up ahead of time. See their page
here
to do so.