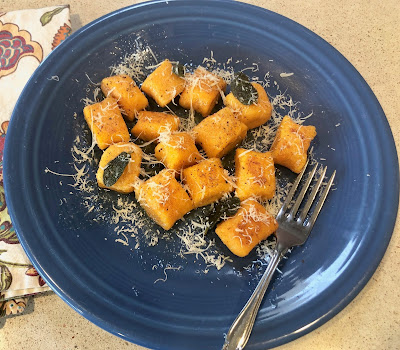 Sage and butter sauce, with some grated Parmesan and black pepper,
completes this dish of sweet potato gnocchi. (Photos: Kathy Morrison)
Recipe: Microwave speeds up the preparation process
It's funny sometimes how the idea of cooking -- and eating -- a certain thing becomes lodged in one's conscious.
This recipe started with a comment on the New York Times Cooking Facebook site after someone asked about favorite things to purchase at Trader Joe's. Sweet potato gnocchi was listed among many, many suggestions. I was headed to TJ's and decided to check it out.
Alas, kale gnocchi and cauliflower gnocchi were in stock, along with the regular potato variety, but no sweet potato kind was to be found at my area store.
So, just how hard is it to make gnocchi from sweet potatoes? I decided to find out.
The answer, fortunately, is: Not hard at all. After reading six or seven recipes that made many dozen dumplings, I landed on a Food52.com version that used just one sweet potato, which was cooked in the microwave for 7 minutes. (If you bake or roast them, sweet potatoes take about 1 hour in the oven.) The dough mixes easily, and rolling it into ropes is pretty fun.
This would be a great kids-in-the-kitchen activity, as well. The shape is not important as keeping the size of the dumplings consistent.
I've included an easy brown-butter and sage sauce to go with the gnocchi, but a light sauce of virtually any good winter seasonings would be excellent. Orange zest and thyme is another that occurs to me.
This is also a great make-ahead: Prepare the gnocchi through the point of cutting them, then freeze them for use when you need a quick meal. Like pasta, they need just a pot of boiling water and some type of sauce, and you're all set.
I don't know how these compare to TJ's version, but I'm not worried about it.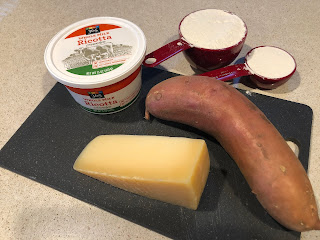 Here's all you need to make gnocchi, plus some salt.
Sweet potato gnocchi
Makes about 4-1/2 dozen
Adapted from
Food52.com
Ingredients:
1 cup whole milk ricotta
1 large sweet potato, about 1 pound
1/3 cup freshly grated Parmesan cheese, plus more for serving
1 teaspoon salt
1-1/4 cup all-purpose flour, plus more for rolling
For butter and sage sauce (optional):
4 tablespoons unsalted butter
10 or more small sage leaves, or 5 larger leaves, cut in half
Grated Parmesan
Freshly ground black pepper
Instructions: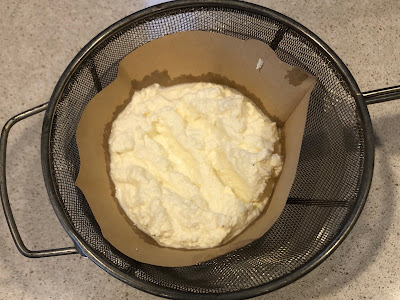 Drain the ricotta to keep the dough from being too sticky.
Place a coffee filter in a wire strainer and set it over a bowl. Measure the ricotta into the filter and let it drain while the sweet potato cooks.
Scrub the dirt from the sweet potato and prick it all over with a fork. Wrap it in a damp paper towel and cook in the microwave oven on High until soft, about 7 minutes. Remove it from the microwave, cut it in half longwise and let it cool for a few minutes.
Line a baking sheet with parchment paper.
Scoop out the flesh of the sweet potato and put it in a large bowl. Add the drained ricotta, 1/3 cup Parmesan and the salt, and mix together until smooth. Add the flour a little at a time, stirring and kneading until dough just comes together. (You don't want to overwork it.)
Divide the dough into 3 or 4 equal portions. On a flour-covered surface, such as a counter or smooth cutting board, roll out each portion into a long rope, about 1 inch in diameter.  Using a sharp knife, cut the rope into 1-inch pieces and transfer the pieces to the parchment-covered baking sheet. (Aim for consistent size so the gnocchi will cook evenly.)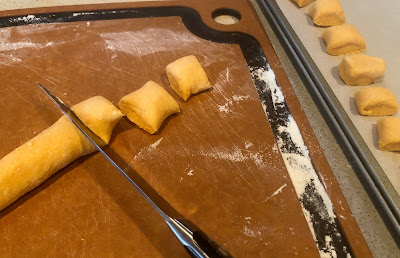 I left the gnocchi in the little pillows that form when the rope of dough
is cut.
At this point, the gnocchi can be frozen for later use: Pop the baking sheet with the gnocchi on it right into the freezer. Once the dumplings are frozen, remove them from the sheet and place in freezer bags or containers.
If planning to serve them immediately,  put a large pot of water on to boil, and salt the water once a rolling boil develops. (To speed things up, start this when you begin cutting the gnocchi.)
Drop the gnocchi into the water, gently, but not so many that they're crowded. They cook quickly and doing a few batches is just as easy. Cook the gnocchi until they rise to the surface of the water, 2 to 5 minutes, and remove them with a slotted spoon to a large bowl or baking sheet (placed in a gently warm oven, about 200 degrees, if the kitchen is cold) while the others cook.
Toss the gnocchi with melted butter and Parmesan to serve, or try this sauce, which crisps the sage and gives the gnocchi a lovely light brown coating:
Melt the 4 tablespoons butter in a medium skillet over medium-high heat. Once it's melted, swirl it around for a minute or so, then add the sage leaves. Continue cooking and swirling for another minute, then add the simmered gnocchi and stir gently until the sage is crisp and both sides of the gnocchi have picked up some color.
Serve immediately with a generous sprinkling of grated Parmesan and a grinding of black pepper.