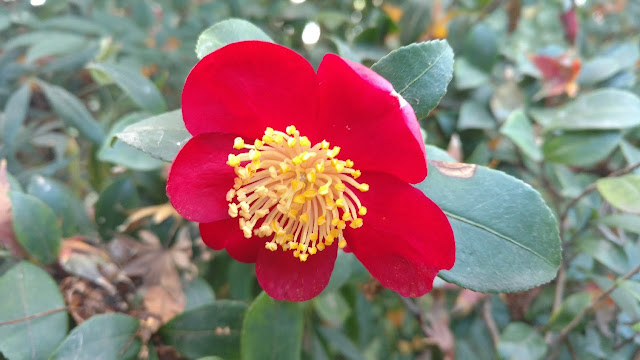 Early-flowering Christmas camellias may be pruned and fertilized after they finish blooming. (Photo: Debbie Arrington)
Wait until after bloom for pruning or feeding
In the Camellia City, camellias are taking center stage.
These popular winter bloomers add color (and sometimes a little fragrance) to often gray days. It's no wonder why we love them.
First to open are the Christmas camellias, which – true to their nickname – flowered throughout December and are still blooming now.
Next come the Japonica camellias, the pride of Sacramento and stars of the late winter garden. They tend to open in February.
Knowing which is which is important when it comes to camellia care.
As they finish flowering, prune Christmas camellias (Camellia sasanqua), the early-flowering varieties. They don't need much, but selective pruning can promote bushiness, upright growth and more bloom next winter.
Feed with an acid-type fertilizer formulated for camellias, which prefer slightly acid soils.
But don't feed your Japonica camellias until after they finish blooming in early March. Feeding while camellias are in bloom may cause them to drop unopened buds.
April is the best time to shape Japonica camellias, after they've finished their bloom cycle. Like the Sasanqua, the Japonicas need little if any trimming. They grow very slowly – and for a very long time. Healthy camellias can live for several decades.
Got some stunning camellia varieties in your garden? The 96th annual Sacramento Camellia Show will be held March 7 and 8 at the Elks Lodge, 6446 Riverside Blvd., Sacramento.
To learn more about the show and camellias, contact the Camellia Society of Sacramento.
Details:
www.camelliasocietyofsacramento.org
.
-- Debbie Arrington