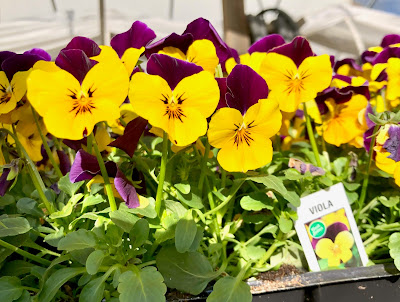 It's still a good time to transplant violas -- they'll be a bright spot well into
spring. (Photo: Kathy Morrison)
Between raindrops, finish winter pruning
Time to bundle up and get to work. Weather conditions continue to be cool and moist – not too wet but damp enough.
All this moisture is cuing some plants to start pushing out new growth. If you're not already done pruning, stop procrastinating and finish this task.
In between raindrops, there's plenty more to do in the garden, too.
* Prune, prune, prune. Now is the time to prune most deciduous fruit trees. (The exception is apricots). Clean up leaves and debris around the trees to prevent the spread of disease.
* Prune roses, even if they're still trying to bloom. Strip off any remaining leaves, so the bush will be able to put out new growth in early spring.
* After pruning, put down fresh mulch or bark to keep roots cozy.
* Apply horticultural oil to fruit trees soon after a rain to control scale, mites and aphids. Oils need 24 hours of dry weather after application to be effective.
* This is also the time to spray a copper-based oil to peach and nectarine trees to fight leaf curl.
* Transplant pansies, violas, calendulas, English daisies, snapdragons and primroses.
* In the vegetable garden, plant fava beans, head lettuce, mustard, onion sets, radicchio and radishes.
* Plant bare-root asparagus and root divisions of rhubarb.
* Plant bare-root fruit trees and roses.
* In the bulb department, plant callas, anemones, ranunculus and gladiolus.
* Plant blooming azaleas, camellias and rhododendrons. If you're shopping for these beautiful landscape plants, you can now find them in full flower at local nurseries.
* On rainy or cold days (or evenings), browse through seed catalogs and start making plans for spring and summer.