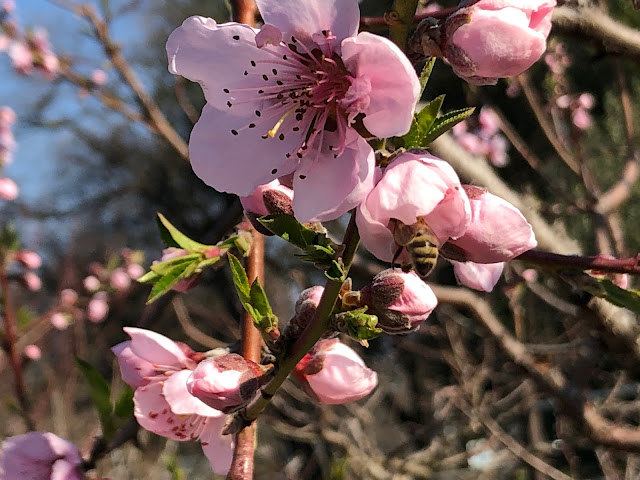 The bee working these early peach blossoms might well think it's spring.  (That's an 'Eva's Pride' peach at the Fair Oaks Horticulture Center.) Use these dry mild days to get a handle on winter garden chore. (Photo: Kathy Morrison)

Make most of mild weather, get ready for spring
It almost feels like spring. Our early February forecast continues to be dry with sunny days in the mid 60s and overnight temperatures dipping down to around 40 degrees – pretty much normal for this time of year.
Plants are responding with rapid growth. Daffodils and other bulbs seem to appear out of nowhere. So do many weeds.
Make the most of these conditions to tackle your garden chores and get it ready for when real spring arrives next month.
This is the last chance to spray fruit trees before they bloom. (A few are blooming already, as in the photo here.) Treat peach and nectarine trees with copper-based fungicide. Spray apricot trees at bud swell to prevent brown rot. Apply horticultural oil to control scale, mites and aphids on fruit trees soon after a rain. But remember: Oils need at least 24 hours to dry to be effective. Don't spray during foggy weather or when rain is forecast.
Also this week:
* Feed spring-blooming shrubs and fall-planted perennials with slow-release fertilizer.
* Remove aphids from blooming bulbs with a strong spray of water or insecticidal soap.
* Pull weeds while they're small.
* Fertilize strawberries and asparagus.
* Transplant or direct-seed snapdragon, candytuft, lilies, astilbe, larkspur, Shasta and painted daisies, stocks, bleeding heart and coral bells.
* In the vegetable garden, plant Jerusalem artichoke tubers, and strawberry and rhubarb roots.
* Transplant cabbage and its close cousins -- broccoli, kale and Brussels sprouts -- as well as lettuce (both loose leaf and head).
* Indoors, start peppers, tomatoes and eggplant from seed.
* Plant artichokes, asparagus and horseradish from root divisions.
* Plant potatoes from tubers and onions from sets (small bulbs). The onions will sprout quickly and can be used as green onions in March.
* From seed, plant beets, chard, lettuce, mustard, peas, radishes and turnips.
* Plant summer-flowering bulbs including cannas, calla lilies and gladiolus.