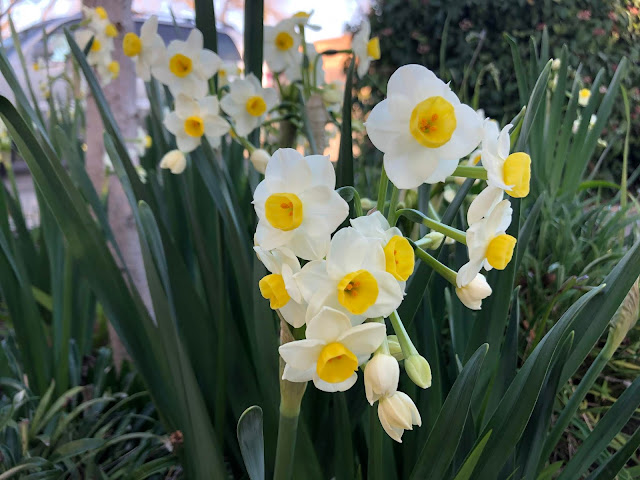 With so many bulbs and other plants blooming, it might as well be spring. (Photo: Kathy Morrison)
Mosquitoes out early; is drought on horizon?
Unusually warm and dry temperatures may make it feel like spring, but they also bring notes of caution from Sacramento weather watchers.
Monday's high of 73 degrees tied a Sacramento record, with 72 degrees forecast for Tuesday. By contrast, our "normal" for early February daytime highs is 60 degrees.
What's more alarming is the lack of moisture. So far, February – usually among the rainiest months – has been bone dry. Historically in Sacramento, this month averages more than 3.5 inches of precipitation.
With such dry weather, forecasters have been mentioning the dreaded "D" word – drought. After tracking almost normally, our rain year has fallen far off pace. According to the National Weather Service, Sacramento Executive Airport reports 6.14 inches total rain since Oct. 1, the start of our rain year. Last year, it measured 10.48 inches through Feb. 10. "Normal" to date is 11.19 inches.
What's worse is that 6 inches is only a third of the 18-inch "normal" rain year total. That means new rounds of conservation measures may be coming soon.
According to the NWS, the driest Sacramento February on record was way back in 1899 – only .04 inches. In more recent decades, February 1995 saw only .19 inches, but that followed widespread flooding in January of that year.
A consequence of all this warmth: Mosquitoes. They're out early – and hungry. According to the Sacramento-Yolo Mosquito and Vector Control District, these early biters are a species that overwintered in rice fields that surround Sacramento. This warmth woke up the bugs, and they're now aggressively seeking first blood. They'll follow people and pets indoors in search of a meal.
Don't let these pests make themselves at home. Empty any standing water outdoors. Wear long sleeves and long pants when working in the garden.
For more mosquito-busting tips:
Fightthebite.net
.