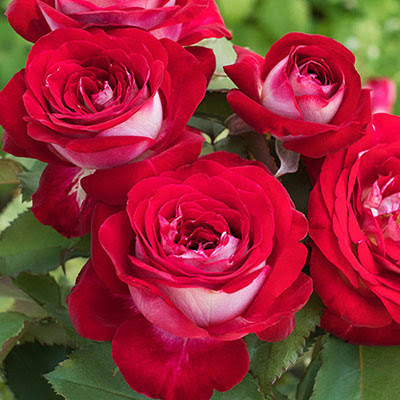 Love at First Sight is among the new roses to be auctioned Thursday.
(Photo courtesy Weeks Roses)
At this event, buy a bush, not just a bouquet
Sweetheart alert: Friday is Valentine's Day. Why give only a dozen cut roses when you can give a whole bush?
Besides finding a creative gift for your favorite gardener, your pre-Valentine purchase also benefits a local club: the Sacramento Rose Society.
At 7:30 p.m. Thursday, Feb. 13, the society hosts its annual auction of rare and new roses at Shepard Garden and Arts Center in McKinley Park. The public is invited; admission and parking are free. Cash or check only please.
New releases will be offered as bare root. Dozens of miniatures and minifloras as well as some larger shrubs will be offered as bushes grown on their own roots.
Weeks Roses donated five of their new releases including two with perfect names for Valentine's Day: In Your Eyes (a unique shrub rose with cup-like yellow blooms with red "eyes" that fade to pink and purple) and Love at First Sight (a bicolor hybrid tea; red petals are silvery white underneath). Also available will be: Queen of Elegance (a ruffly pink floribunda); State of Grace (a multi-color grandiflora; the big pink and gold blooms have a citrus scent); and Celestial Night (a purple floribunda).
In addition, the auction assortment features something for every rose lover – and your favorite Valentine, too. Some examples: Miniature favorites Irresistible (snow white with a slightly pink blush at the center) and Joy (cream edged with bright pink). Both roses look like full-size hybrid teas – only little.
Or go for something different (and maybe appropriate) -- Grumpy, a pink and very fragrant polyantha released almost a century ago as part of a fairy tale tribute to the Seven Dwarfs.
The auction supports the club's activities throughout the year including its annual rose show in April and workshops.
This is a second chance for local rose lovers; Sierra Foothills Rose Society held its auction last week. Roses for both auctions, which have different selections, are featured in the same online catalog and the clubs' shared newsletter.
Shepard Center is located at 3330 McKinley Blvd., Sacramento.
For an online auction catalog with photos, go to:
http://sierrafoothillsrosesociety.org/
- Debbie Arrington